Thanks to everyone who made our time at the 2018 SGIA Expo a success! Those who took time out of their schedule to stop by the Durst booth helped to make this one of our most successful shows ever. The 2018 SGIA Expo was held October 18-20 at the Las Vegas Convention Center with attendance of more than 24,000 printing technology industry professionals and 612 exhibitors on a sold-out show floor.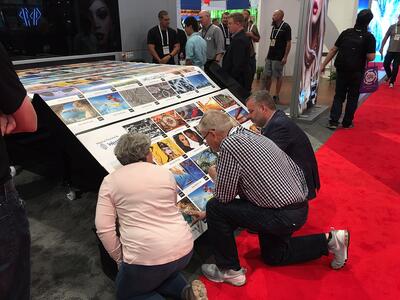 Durst, a proud Platinum Sponsor of the Expo provided a first-hand look at next generation print technology in action. The Durst booth featured two new printing platforms and software solutions featuring leading-edge technology, all designed to streamline the efforts of today's print businesses. All of the Durst solution offerings shown were well-received by all attendees of the Expo who experienced first-hand the speed, quality, and capabilities of the systems.
The award winning P5 250 HS printing platform along with the Rho 512R wide-format roll printer with new LED technology were featured all three days of the show, running live production printing for attendees to see the exceptional output that is available with Durst digital inkjet printing solutions. Durst also unveiled their two professional services software, MAPS (Multi Application Platform & Solutions) which offers end-to-end solutions as well as individual submodules for integration into existing production environments and LiftERP, a comprehensive ERP system focused on the printing industry. Built by a printer, for a printer. The introduction of these software solutions received extremely positive response from attendees who expressed interest in a comprehensive workflow management solution that would undoubtedly benefit their business.

"This year, we have selected SGIA Expo as the central trade show to showcase our innovations in large-format printing," says Christoph Gamper, CEO of Durst Group. "Our printing capabilities are undisputed worldwide, and with Durst US, we have a highly successful and service-oriented infrastructure in the United States to help our customers with their production needs. With Durst Professional Services, we're taking that one step further and providing comprehensive solutions for their respective processes and production environments."

"Every customer is different and has a different focus. With our MAPS architecture, we offer software solutions that can be quickly and easily integrated into existing processes – from the individual module to the entire ERP solution – depending on your choice and requirement. Whether to achieve optimal workflow efficiency or for the adaptation of new business processes, with DPS our customers receive the necessary advice and solutions from a single source. I am very proud of this development and I am pleased to introduce Durst Professional Services to the public at SGIA and to hear from customers."
In addition, Durst was honored by SGIA and presented with two 2018 Product of the Year Awards for the Delta WT 250 in the category of best RTR/Hybrid/Flatbed New Technology or Inkset and the Rhotex 325 dual-purpose fabric & soft-signage printer in the category of Roll-to-Roll Direct Disperse Ink on Textile. This is the second year in a row that the Rhotex 325 has received a SGIA Product of the Year Award. These awards highlight the best digital imaging technologies that keep the specialty imaging community moving forward.