Durst Delta Series: SPC 130 and WT 250 Awarded the 2019 SGIA Product of the Year Award
(Rochester, NY) – The Specialty Graphic Imaging Association (SGIA) has chosen Durst large-format digital printers as "2019 Product of the Year" in their respective categories. The Durst Delta SPC 130 printer was selected as the industry's best in the Single Pass technology category, and the Delta WT 250 printer received the honor in the RTR/Hybrid/Flatbed new technology or inkset category.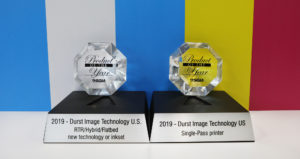 "All of us at Durst are extremely pleased and proud to receive this verification from industry professionals who know best how to benchmark quality and performance," said Tim Saur, CEO & Managing Director for Durst U.S. and Canada. "Our Delta line of printing solutions offers print service providers the best option for satisfying client demands while strengthening their overall business operations. We take great pride in being selected as a winner in this prestigious competition."
Durst printing technology offers an extremely wide-range of business opportunities and applications that have been revolutionizing production processes for today's printing businesses. These versatile world-class large-format digital printing solutions deliver today's state-of-the-art most wanted display applications efficiently and at production speeds including soft signage, corrugated packaging, fine art prints, interior decor, and more.
In effort to expand business and fulfill an increasing demand for more diverse services, many leaders in the print industry are choosing to move outside their core services. Print service providers are expanding from their core businesses into adjacent market segments as a way to grow and diversify.
Delta SPC 130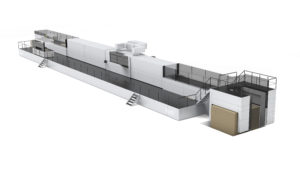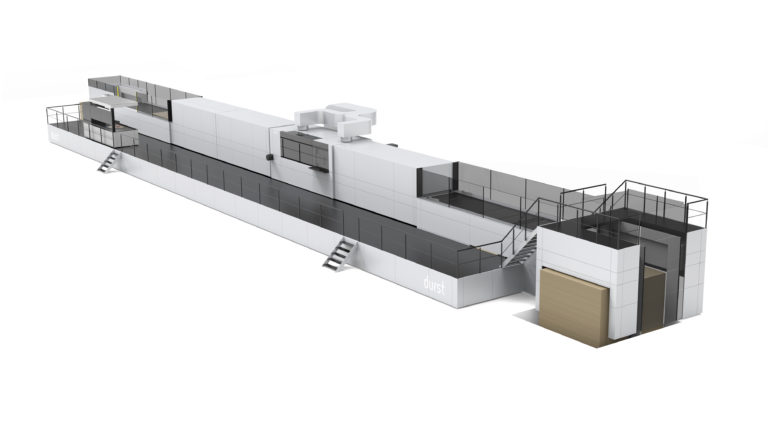 The Delta SPC 130 represents the new generation of digital printing presses equipped with Durst Water Technology. The SPC 130 is based on the latest generation of Durst single-pass printing systems. The Delta SPC 130 combines a well-engineered mechanical design with easily accessible sub-assemblies and selected components to guarantee durable quality, high performance and reliability. The SPC 130 prints with a maximum of 6 colors on small formats from 20 x 24 inches through to very large formats with maximum dimensions of 51 x 82 inches.  This is a printing system that offers unrivaled versatility, low maintenance requirements and 24/7 reliability.
Delta WT 250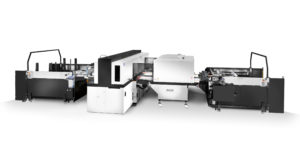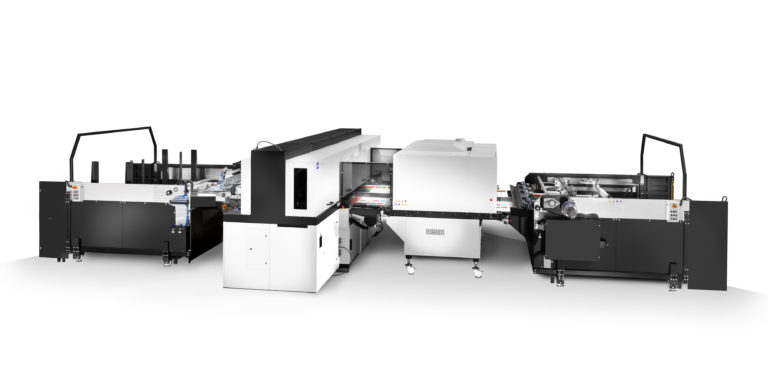 The Delta WT 250 has evolved into an industry leading corrugated packaging and display printing solution.  With Durst Water Technology, the Delta WT 250 is especially suitable for applications where the highest quality and odor free printing is required, such as in store displays, short run packaging and prototyping. With Durst Water Technology inks and 1000dpi, the print is truly comparable to litho. It is capable of printing in single or dual sheet loading modes, with a fully automated load/unload option for maximum efficiency. Other benefits are a corrugated board hold down system for warped board, automated media separation, and registration of +/- 0.5mm, as well as a media transport system that has gearless direct drive to ensure highest precision.
Open to all Printing United exhibitors, Product of the Year products are evaluated by a highly qualified panel of judges from across the printing industry with this year's annual contest's 200+ entries in 72 categories spanning analog, digital, output and non-output technologies. Output devices are judged based on reports generated by the Sonoco Institute at Clemson University. "This is the only competition I know of that reports on the percentage of Adobe RGB a printer can hit," said Ray Weiss, Director of Digital Print Programs, SGIA. "We'll display the reports alongside the entries in the Awards Gallery at PRINTING United in October." "The Product of the Year competition represents the best of the best," Weiss said.
About Durst:
Durst Phototechnik AG is a leading manufacturer of professional digital imaging systems.  The company operates manufacturing facilities in Brixen, Italy, and Lienz, Austria, and has major offices in the U.S., France, United Kingdom, Germany, Spain, Mexico, Brazil and Singapore.  Durst's reputation for quality, precision, innovation and reliability spans more than 80 years.
CONTACT:  For information on Durst Image Technology U.S., LLC or any of Durst's products and services, contact Christopher Guyett, Sales & Marketing Coordinator:  phone 585-486-0340 ext. 5270, fax 585-486-0350, e-mail: cguyett@durstus.com – Or visit Durst U.S. online at: www.durstus.com