Rochester, NY – September 2023: It is incredible how quickly a single decision can change the trajectory of a business. When Accu-Label Inc., based in Fort Wayne, Indiana, installed their first Durst Tau RSCi in 2021, they quickly realized the benefits. They saw print speeds five times higher than traditional solutions, their consumable costs were halved, and their total digital production capabilities more than doubled. That initial decision quickly led them to their next: a second Durst Tau RSCi. 
Two and a half years (to the day) of purchasing their first RSCi, Accu-Label Inc. invested in a second. DJ Manning, Production Manager at Accu-Label, noted, "With close to 100% capacity on the first unit, it was time to add a second. Capacity and redundancy are such an integral part of our process, and we need the quick turn, fast speed, and high-quality abilities of the RSCi to open our business to faster turn labels."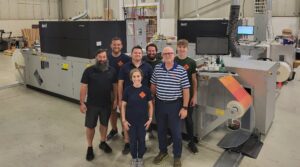 The Durst Tau RSCi is designed for an industrial level of productivity, offering the highest quality in the most economical way. With 1200 dpi quality, and printing speeds up to 328ft/min, the RSCi is a game changer for label service providers. With an RSCi already in production, Manning adds, "Repeatability of color and quality is a large plus to the RSCi. On top, we are seeing 8-hour shifts with 70 to 80,000 feet of product through with no down time for cleaning or maintenance."
In addition to the benefits seen from the initial investment, Manning and his team also feel confident in partnering with Durst again. "From Durst's management to their service team, everyone is great to work with. They are always putting Accu-Label's needs at the forefront."
"Durst truly has a solution for every print service provider, and this is exemplified through the strong relationship we have built with Accu-Label," said Steve Lynn, Director of Labels and Packaging. "From our first meeting, we knew that Durst Tau RSC technology would help Accu-Label expand productivity and grow into their next chapter. The quality and benefits of Durst innovation are unparalleled, and we are pleased to partner with them once again."   
Accu-Label has high expectations with the addition of this second printer, and for good reasons. Manning said of this next chapter, "We are hoping to see our digital transition into more aggressive turn times on labels, giving customers the ability to order as needed rather than keeping large shelf inventories. With having 2 RSCi's, we can shorten lead times and ease customer's supply needs."
About Accu-Label Inc.:
Founded in 1987, Accu-Label is a family-owned label manufacturer with a focus to quality. Accu-Label continues to invest in technologies that improve their customer and vendor relationships. They strive to stay current on equipment in the printing field. The company specializes in flexo and digital labels, servicing a wide variety of markets; food and beverage, automotive, retail, industrial, and chemical companies and not-for-profit. Accu-Label's mission is to provide excellent customer service and create labels of the highest quality. 
CONTACT:  For information on Accu-Label products and services,
DJ Manning.    
Phone: 888-482-5223
Accu-Label Inc. online at: www.acculabel.com
About Durst: 
Durst Group AG is a leading manufacturer of professional digital imaging systems.  The company operates manufacturing facilities in Brixen, Italy, and Lienz, Austria, and has major offices in North America, France, United Kingdom, Germany, Spain, Mexico, Brazil, and Singapore. Durst's reputation for quality, precision, innovation, sustainability, and reliability spans more than 80 years.
CONTACT:  For information on Durst products and services, contact Sydnie Shepland. 
Email: Sydnie.Shepland@Durst-Group.com 
Phone: 585-486-0340 ext. 5236 
Durst U.S. online at: www.durstus.com