(Rochester, NY – November 2020) – Accu-Label, a family owned label manufacturer based in Fort Wayne, IN, is preparing for further growth with the addition of the Durst Tau RSCi inkjet label printer. The Tau RSCi is the latest offering from Durst's range of 1200 dpi RSC printers with print speeds up to 328ft/min. Accu-Label has opted for the 20" width version to maximize their productivity.

Accu-Label was co-founded 33 years ago by David Manning Jr., who started the label printing company in his garage. With the full support of his family, David Manning's Accu-Label business was born and today operates with state-of-the-art equipment. From the beginning, Manning set his sights on providing his customers with high quality labels and superior, personalized customer service.
"Creating custom labels at Accu-Label is more than just a job for us…it's a calling. For over 30 years, we've been answering that call by investing into the foundation of our business", explains Manning. "Quality and service is the core of our business. That means giving our customers superior service and the highest quality product, with family-centered culture to back it up. We're proud to service both local and national customers, from Fort Wayne, Indiana."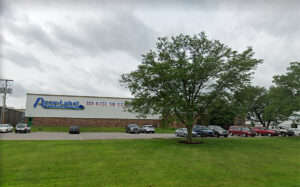 To deliver this high level of quality and service, Accu-Label has always emphasized investing in new equipment and the best technology available to work smarter and more efficiently. When it comes to technology, they look to focus on the future, not on the past. "Positioning is everything in the label market and you have to set yourself apart from others, to stay on the cutting edge of this industry," says Catie Manning-Ewald, Creative and Marketing Director for Accu-Label. This is why Accu-Label chose the Durst Tau RSCi to power their production offering.
Continuing the success of the 1200dpi Tau RSC, now with over 100 installations globally, the new RSCi is designed to handle medium to long run jobs from flexo while also producing high-quality short run jobs in the most economical way. The RSCi offers a range of benefits including native 1200 dpi heads and the label industry's smallest inkjet drop size for the highest inkjet quality available today.  Accu-Label chose to add extended gamut color options, high opacity white and variable data options to expand what they can offer their customers.  The RSCi is available in 13", 16.5" and 20" versions and while it is possible to upgrade to wider widths in the field, Accu-Label chose the 20" model to maximize their throughput and productivity from the start.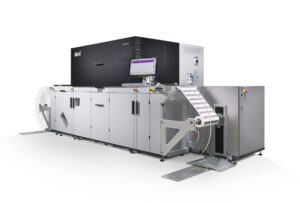 For over three decades, Accu-Label has been an industry leader investing in the latest digital and flexo printing technologies. They are dedicated to exceeding the expectations of their customers which has allowed the business continuous and tremendous growth. "With the addition of the Durst, we are looking to take our standard of digital printing, to the next level, to help us revolutionize label printing", says DJ Manning III, Production Manager. The investment will enable Accu-Label to quickly respond to complex client demands, optimize their production processes, provide expansion into new market segments, all while meeting the high level flexo-like quality output that the company has been known for throughout its history. The Durst Tau RSCi will give Accu-Label the ability to provide better service to current customers as well as to cultivate new relationships as capabilities increase.
"We chose Durst because they really understood our business needs," states David Manning. "Yes, speed was a big consideration, but we needed more," Manning continues. "We are a company that is devoted to providing the best quality product and a high level of service. For us, it doesn't matter how fast a press prints if we can't deliver a quality product. We felt the Durst RSCi gave us both speed and exceptional quality compared to other digital printing technologies currently available on the market. We see the RSCi as the best complement to our flexo process."
Durst appreciates the opportunity to partner with Accu-Label and is looking forward to a long relationship. Steve Lynn, Director & General Manager of New Markets, Durst North America comments that, "We are delighted that Accu-Label has selected Durst to be its platform of choice. We are very excited to be an integral part of their production process and look forward to building a working relationship built on innovation and common goals."
Manning is confident that the Tau RSCi is the critical component to continuing Accu-Label's expansion. He states, "Adding the Durst RSCi digital label press will be vital in meeting customer expectations and requirements, now and in the future. The speed and throughput of the Tau RSCi will really help to cultivate our customer base as well as the efficiency of our production workflow, giving us the ability to handle the longer runs that produces total cost-efficiency."
For Accu-Label, quality remains the number one priority. As they continue to expand their business, they never lose sight of quality and consistency as the critical component. With the Durst Tau RSCi, sacrificing one for the other, will never be an issue.
About Accu-Label Inc.
Founded in 1987, Accu-Label is a family-owned label manufacturer with a focus to quality. Accu-Label continues to invest in technologies that improve their customer and vendor relationships. They strive to stay current on equipment in the printing field. The company specializes in flexo and digital labels, servicing a wide variety of markets; food and beverage, automotive, retail, industrial, and chemical companies and not-for-profit. Accu-Label's mission is to provide excellent customer service and create labels of the highest quality. Contact Accu-Label at 888-482-5223 and online at: www.acculabel.com
About Durst
Durst Phototechnik AG is a leading manufacturer of professional digital imaging systems.  The company operates manufacturing facilities in Brixen, Italy, and Lienz, Austria, and has major offices in North America, France, United Kingdom, Germany, Spain, Mexico, Brazil and Singapore.  Durst's reputation for quality, precision, innovation, sustainability and reliability spans more than 80 years.
For information on Durst Image Technology U.S., LLC or any of Durst's products and services, contact Christopher Guyett, Sales & Marketing Coordinator.
Phone: 585-486-0340 ext. 5270     Email: Christopher.Guyett@durst-group.com
Durst North America online at: www.durstus.com