Bluemedia Moves to Durst Digital Print Production Technology to Grow Leading Edge Print & Fabrication Services
Rochester, NY (March 2020) – Bluemedia, a large format printing company headquartered in Tempe, AZ focused on décor, fabrication and technology for venues and experiential activations has recently made the move to Durst digital printing equipment. In need of greater reliability and maximum uptime to meet increased capacity due to tight turnaround times and higher customer demand, Bluemedia looked to Durst print production technology for a solution. As a result Bluemedia added a Durst large format printer, the Rho 312R, and textile printer, the Rhotex 325, to their 120,000 sq ft. facility.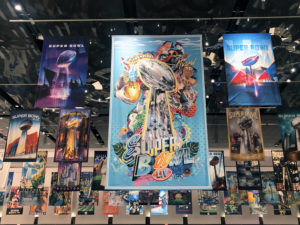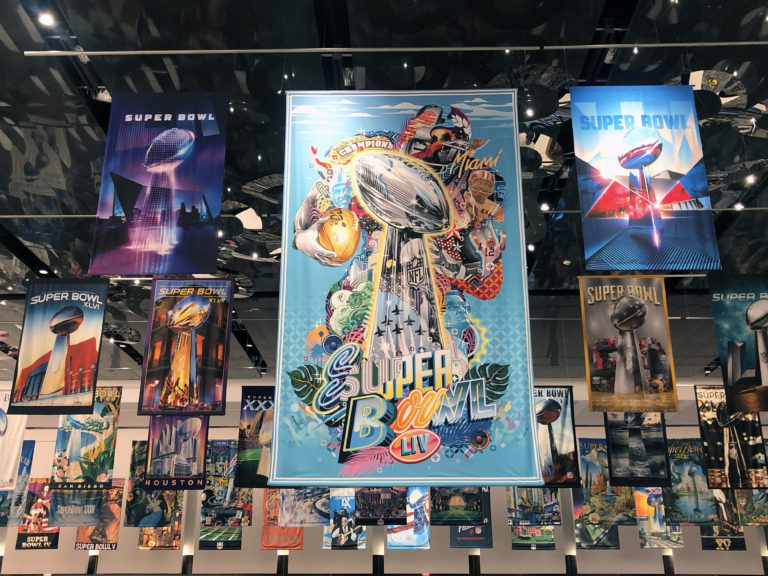 "We are continually pushing for higher standards in every area of the company", says Hayes Holzhauer, Executive Vice President of Operations at Bluemedia.  "Uptime and reliability are more important than saving a few dollars on the capital equipment budget.  The projects and clients we have offer almost no margin for error so we can't afford downtime.  We found Durst equipment to be a great fit for us with its high speed, quality, and reliability that supports our end result."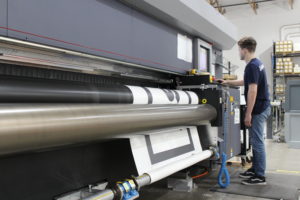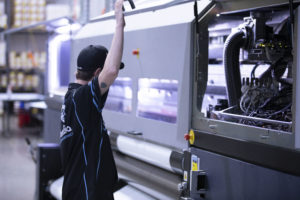 When Bluemedia considered adding large format printers to their facility, their main objectives were to increase capacity and reliability while receiving top-notch support. They were looking for machines that were fast, efficient, industrially built, and reliable. Customers were consistently asking for a faster turnaround time and with the Durst printers, Bluemedia was able to fulfill those demands.  From an outsourcing standpoint, Durst printers were a great fit for Bluemedia as 95% of their work cannot be outsourced due to the time frame of the project as well as high customization.
For more than 20 years Bluemedia has worked with top-tier brand sponsors as well as professional and collegiate organizations to create a variety of large format printing products. With just two people and a $30,000 founder investment, Bluemedia started in 1997 producing graphics for Arizona golf tournaments. From there, with relationship-building and delivering quality printing top-of-mind, the business started to grow. Ten years later, Bluemedia is a multimillion-dollar large format graphics company with 50 employees that has created products for multiple Super Bowls, Southwest Airlines and Walt Disney World just to name a few.
In order to continue growth of the company and to meet customer requirements, Bluemedia knew they needed a new solution.  After a thorough search, Bluemedia added the Durst Rhotex 325 and Rho 312R in order to bring industry leading images, art and messaging to life with brilliant, scintillating colors. With Durst print production equipment, Bluemedia is able to complete all printing applications as well as cutting and finishing.
Durst Rhotex 325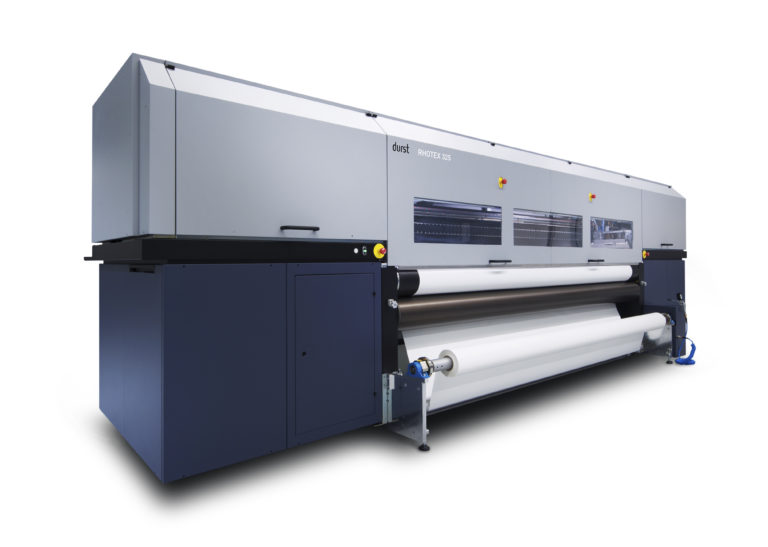 The Rhotex 325 is suited for dual purpose printing that combines direct-to textile printing with dye sublimation transfer printing technology. The Rhotex 325 provide printing speeds up to 4,130 sq.ft/hr. Depending on the application and fabric, this printing system can alternate between paper transfer and direct printing on polyester-based materials in no time, as well as additional features for 24/7 production.
Durst Rho 312R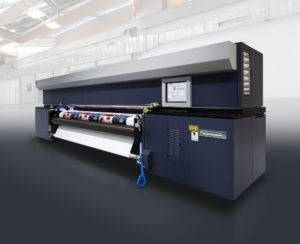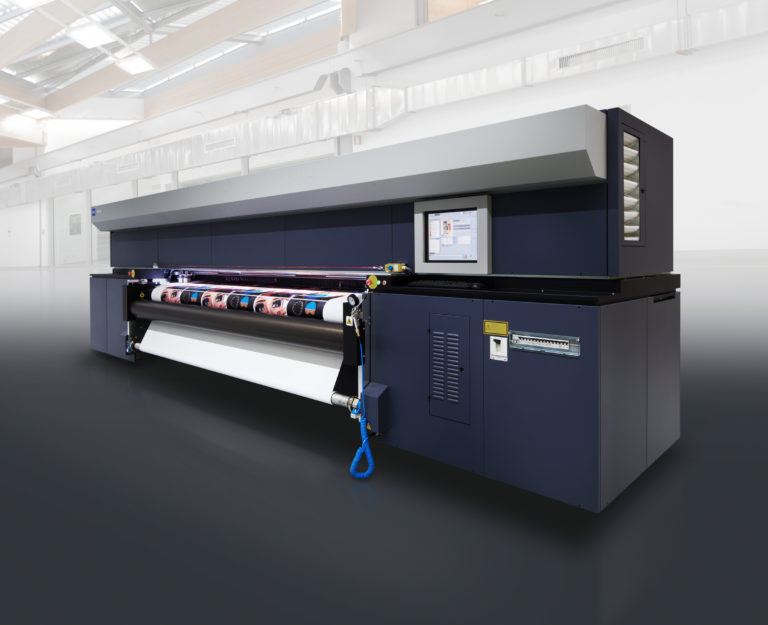 The Rho 312R is the most productive 3.2 m roll-to-roll printer in its class, defining the quality standard for industrial backlit and fine art printing. It provides printing speeds up to 3,250 sq.ft/hr. Productivity is further enhanced by the option of being able to print two 5.2 ft/1.6 m rolls of media at the same time with individual print queues.
Bluemedia was looking for a consistent quality across a variety of advertising and promotional materials. To create unique experience for their client, Bluemedia depends on using multiple products and mediums, and needs the product to be created efficiently. The Durst Rhotex 325 and Rho 312R were able to meet these needs.
"Both the Rhotex 325 and Rho 312R printed faster than previous machines we had used," said Holzhauer. "The addition of these printers has been a huge asset for Bluemedia as we've been able to produce better fabric backlit, meet quicker turnaround times, and complete larger jobs. Since the implementation of Durst technology we have a lot less worry, higher quality and more efficiency. These machines are robust and well-engineered," Holzhauer continued.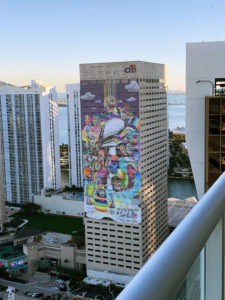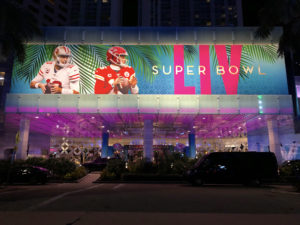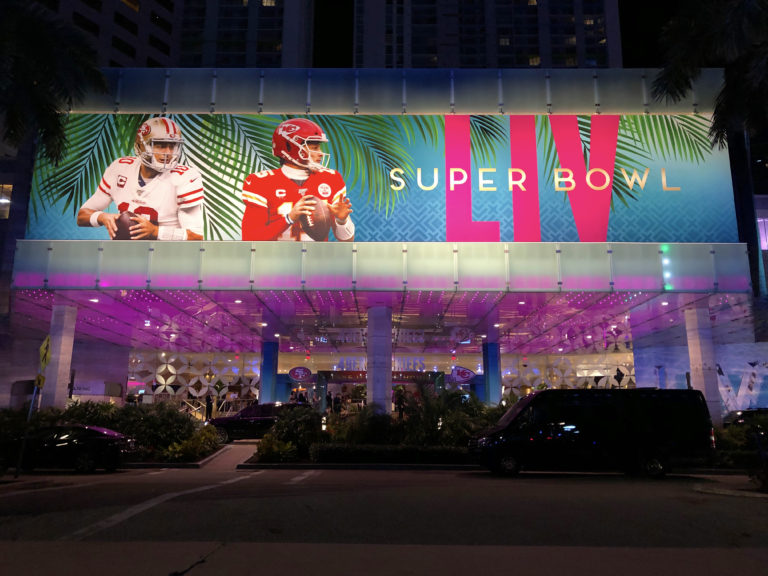 Now that Bluemedia has increased their capabilities with the Rhotex 325 and Rho 312R, they seeing an increase in business. "We have more uptime, faster printing and better support which translates into taking on more jobs than we could before," said Holzhauer. "We are excited for what's to come in the future for Bluemedia; from our detail-oriented project managers and award-winning design team, to our state-of-the-art technology and 120,000-square-foot production facility, we are ready for anything. You need- banners, building wraps, fleet graphics, structural signs? We're committed to doing whatever it takes to make it perfect, every time."
About Bluemedia:
Bluemedia is the industry leader in décor, custom fabrication and experiential activations for brands, agencies, events and venues across the United States. We're a team of creatives, engineers, managers, rule breakers and list-checkers. It's our passion to work alongside the world's leading designers, architects and brands to bring their visions to life from concept to execution.
For more than 20 years, Bluemedia has been the go-to partner for Fortune 500 companies, top-tier brand sponsors, and professional and collegiate sports organizations across the country. To learn more about Bluemedia visit their website at www.Bluemedia.com
About Durst:
Durst Phototechnik AG is a leading manufacturer of professional digital imaging systems. The company has manufacturing facilities in Brixen, Italy, and Lienz, Austria, and has major offices in the U.S., France, United Kingdom, Germany, Spain, Mexico, Brazil and Singapore. Durst's reputation for quality, precision, innovation and reliability spans more than 80 years.
For information on Durst Image Technology U.S., LLC or any of Durst products and services, contact Christopher Guyett, Sales & Marketing Coordinator: phone 585-486-0340 x5270, e-mail: christopher.guyett@durst-group.com. Or visit Durst U.S. online at: www.durstus.com