Rochester, NY – August, 2018 – DuraMark Technologies near Indianapolis, IN is focused on durable labels. In fact, their logo itself is cleverly a warning label. When they had a chance to look at replacing a press at their new facility, they looked to Durst.    
"We knew that UV technology was ideal for durable labels, and there were several key players in the market." said Bill Bussick, President & CEO of DuraMark.
"When we looked at replacing a press that had been discontinued, we knew we needed a reliable solution that met our customers demanding standards. Durst was our choice."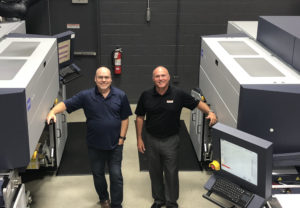 Durst will be showcasing the latest developments in UV inkjet technology, web-to-print solutions and more at the upcoming Labelexpo 2018 show in Chicago, September 25-27th, Hall F, Booth # 5901. Moreover, OMET, will be showcasing an inline hybrid solution featuring the X6 technology, and powered by the Durst Tau 330 RSC. Additionally, our focus will be on the power & functionality of the Durst Workflow software, which helps simplify issues with customer files without having to go back to pre-press or Illustrator to make necessary changes.
DuraMark is using the Durst Workflow software to drive both of their Tau 330's, and have capacity and redundancy to protect and increase their business. "Because we deliver 'just in time,' to customers who are using our decals in manufacturing lines, we need to make sure we can give them what they need, when they need it," said Bob Keck, Vice President of Operations. "We've been delighted by working with Durst on this entire project."
About the Tau 330 Presses
With its proprietary single pass UV inkjet technology, Durst provides the required flexibility to produce fast, efficient and with the highest print quality for the complete range of label & packaging applications. Small, medium, and now long runs are highly profitable with digital systems from Durst. The options are virtually unlimited and open up an enormous potential for new products and services in an ever-changing market.
With Durst continuous innovation of the Tau 330 UV portfolio, users can now rise above the rest and 'Configure their Digital Future' – available as stand-alone or an entirely automated production unit with integrated conventional & digital finishing lines, or even as a hybrid configuration with multiple flexo decks.
About Durst:
Durst Phototechnik AG is a leading manufacturer of professional digital imaging systems.  The company operates manufacturing facilities in Brixen, Italy, and Lienz, Austria, and has major offices in North America, France, United Kingdom, Germany, Spain, Mexico, Brazil and Singapore. Durst's reputation for quality, precision, innovation, sustainability and reliability spans more than 80 years.
For information on Durst Image Technology U.S., LLC or any of Durst's products and services, contact Christopher Guyett, Sales & Marketing Coordinator.
Phone: 585-486-0340 ext. 5270
Email: Christopher.Guyett@durst-group.com
Durst North America online at: www.durstus.com