Rochester, NY – September 2022: From September 13-15, 2022 Durst Group was showcasing the highly successful and globally placed Tau RSC technology in booths #3105 and #3123 at Labelexpo Americas in Rosemont. In addition to the hundreds of new product launches and live demonstrations from 400 exhibitors, Durst offered a unique experience, showcasing their Ecosystem of printers and software, and provided visitors access to experienced industry experts.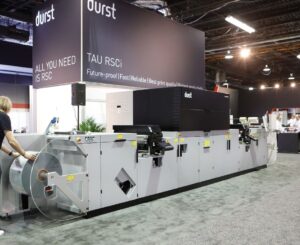 Customers, partners, suppliers and friends from all over the world, primarily from the American continent, visited the booth and were impressed by the technology and innovation of Durst machines and the leading digital inkjet solutions. Durst was showcasing two printers from their Tau RSC Portfolio, which were presented to interested parties during numerous live demos.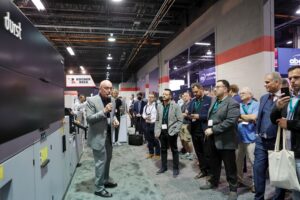 The Durst Tau RSCi, is designed for an industrial level of productivity, this printer offers highest quality, in the most economical way. Available in printing widths of 330, 420 or 510 mm the printer is a real productivity workhorse with printing speeds up to 100m/min. The printer can now be equipped with the new double white feature, increasing the productivity when printing with white ink at highest opacity to 80m/min.

During the show, the Tau RSCi was printing live on sensitive shrink sleeve material outstanding beer can shrink labels at highest productivity.

Equipped with latest RSC technology, the Tau 330 RSC E combines best in class print quality with an economic investment. Fully upgradable to an 8 color Tau 330 RSC with impressive native 1,200 dpi resolution and a print speed of 80 m/min guarantees superior print quality at all levels of investment.

Customers could also see for the first time beautiful In-Mold Labels and containers produced with the Tau RSCi. In Mold Labels are an interesting and growing application and it was the first time that Durst showed samples of this application live.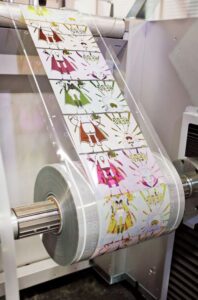 Next to machinery, customers experienced the strong Durst Software portfolio including Durst Workflow Label and Durst Analytics. Durst's competitive software portfolio is a real game changer and helps customers to grow their business. Visitors have received deep insight into the newest features from the experts.
Steve Lynn, Director, Labels and Packaging, comments, "It was great to welcome so many customers, partners, suppliers and friends finally again at Labelexpo. The feedback we received was very positive and customers continue to adapt to digital printing with our leading inkjet solutions at a very high pace."
DURST NORTH AMERICA | BECKY MCCONNELL, SYDNIE SHEPLAND
Email: becky.mcconnell@durst-group.com, Sydnie.shepland@durst-group.com
Phone: 585-486-0340
Durst U.S. online at: www.durstus.com