Rochester, NY – November 2022: From October 19th-21st, Durst North America showcased their industry leading technology at the most dynamic and comprehensive printing event in the world. A combination of hardware from their P5 technology portfolio, with their full software suite, gave booth visitors a one-of-a-kind full print "ecosystem" experience.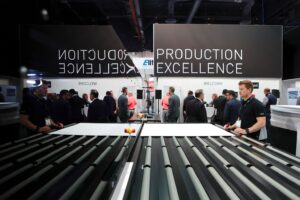 The Durst P5 500, making its North American debut, is a 5.25m "superwide" roll-to-roll printer for unprecedented production of flexible materials. An integrated roll support greatly simplifies media loading and changing. Rolls can be processed in single, dual, and triple mode – in dual mode even asymmetrically. These advancements allow for efficient and unattended production, permitting print service providers to output jobs faster
P5 Tex iSub, a dye sub printer for soft signage and fabrics printing, comes equipped with inline fixation, offering a 1-step direct to fabrics printing process. The printer is not limited to just direct printing, but transfer papers can also be printed and further processed in the usual way. The DurstP5 Tex iSub contactless fixing technology ensures excellent color consistency as well as extreme sharpness of detail in images and text, also blurring or bleeding of color is eliminated.
A new advancement with the Durst P5 350 enables the printer to be equipped with Double 4 (D4) technology, maximizing the productivity of the P5 UV series printing systems through the implementation of a double CMYK color configuration. The Durst D4 technology can currently be configured for all available P5 350 HS and P5 210 HS versions (Boards, Hybrid, 3/4 automation, full automation) and is also available as a field upgrade.
The Durst Software Suite offers web-to-print, prepress and production, analytics, and ERP modules to improve and simplify business. All Durst printers come fully equipped with Durst Workflow and Durst Analytics software, with optional Durst Smart Shop software and Lift ERP.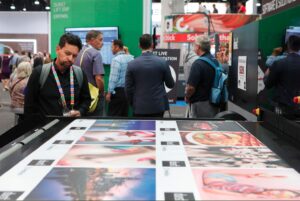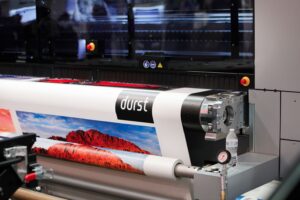 Tim Saur, CEO and Managing Director of Durst North America, reflected, "The Durst focus on innovation and production advancements persisted through the pandemic. This was apparent from our booth. We continued to expand our technology to meet the growing needs of the industry. It was very fulfilling to show three printers that had never been at a Printing United show. Additionally, we could display the increasing efficiency of our software suite – Workflow, Lift ERP, and Smart Shop – the entire ecosystem – in one location. As a Board member of Printing United, I am very proud of the attendance and success of the show. As a constituent of Durst and a leader in the OEM space, I am elated by the continued strength of our industry."

Contact: Becky McConnell, Sydnie Shepland
Email: Becky.McConnell@Durst-Group.com, Sydnie.Shepland@Durst-Group.com
Phone: 585-486-0340
Website: www.durstus.com