Rho 1012 Continuous Inkjet Production System Wins 2015 'Top Products' Award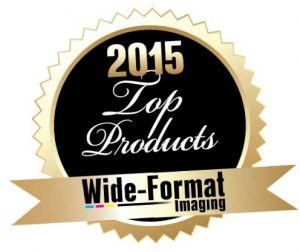 Durst's Rho 1012 Continuous Inkjet Production System has been chosen by Wide-Format Imaging magazine as one of its 2015 "Top Products." The award is presented to honor "breakthrough" products that over the past year have caused the most excitement in the commercial printing industry and been a valuable asset to wide- and grand-format businesses.
The Rho 1012 was named a "Top Product" in the Output Devices: Flatbed category by a vote of the magazine's readership, comprised of members and observers of the printing industry.
"We're extremely pleased and proud that the Rho 1012 has been selected as one of Wide- Format Imaging's 2015 Top Products by the community of professional print providers which we interact with every day," says Brent Moncrief, Vice President of Sales & Marketing for Durst Image Technology U.S. "Our customers want their internal operations to be more productive and creative, and their offerings to clients more dynamic and effective. The Rho 2012 continues to deliver all those advantages, and we thank the industry for the recognition."
The Rho 1012 – equipped with Durst's high-performance, small-drop 12-picoliter QuadroTM Array print head technology – offers the highest image quality available in the segment at print speeds up to 5,000 s.f./hr. The Rho 1012 matches offset print quality while offering the flexibility of digital inkjet printing. Incorporated in this high-productivity solution is the ability to operate in a fully automated stack-to-stack board printing option, full registered 3⁄4 automation, or roll-to-roll configurations.