As seen around the world on TV by millions
The largest ever picture of the Royal Family was created for the Queen's Diamond Jubilee by Service Graphics in the UK.
One of the main events of the Queen's Jubilee weekend was the Thames River Pageant where a otilla of over 1000 boats sailed down a seven mile course of the river through the centre of London. At one point, as the Royal Barge passed the Sea Containers House located on London's South Bank, all eyes were focused on the giant PVC commemorative banner measuring 100m x 37m.
Service Graphics, which is the large format print and display division of St Ives, was awarded the print job by private real estate development rm, Deerbrook Group. The real estate company purchased the imposing 1970's of ce building to develop the site which will include nine stories of of ces, along with shops and restaurants and a four- star Mondrian branded hotel with 360 rooms. The hotel is scheduled to open in 2014 and will be the rst Mondrian hotel in Europe.
Scott King, sales director of Service Graphics said: "We are delighted to work with the Deerbrook Group to produce such an extraordinary building banner." "This project represents the largest ever single graphic produced by Service Graphics and we are extremely pleased with the result."
Nigel Franklin, production services manager of Service Graphics, commented: "Service Graphics are delighted with the print quality, speed and reliability of the Rho 500R."
The black back PVC banner was printed in 42 sections on its Durst Rho 500R printer in Chessington, Surrey and then fabricated into seven sections using high frequency welding to bond the material. Service Graphics only had 15 days to turn the job around as planning permission was only granted on the 10th May and the completed banner was unveiled at 10am on Friday 25th May.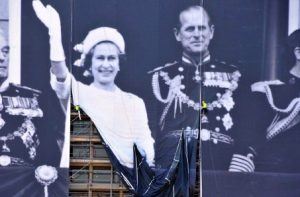 Apart from the short time scale, the sheer size and weight of each section of the banner posed a challenging task with the installation and getting the sections into position on the scaffolding at 12th oor level.
The banner itself depicts the Queen's Silver Jubilee in 1977, with Prince Charles, Prince Edward, Prince Andrew, Lord Mountbatten along with The Queen, Prince Philip, Captain Mark Phillips and Princess Anne standing on the balcony at Buckingham Palace.
For more information on Service Graphics, please visit www.servicegraphics.co.uk