FireSprint Continues to Grow Business with Addition of the Durst Rho P10 250 HS Plus
Rochester, NY – May, 2019 – FireSprint located in Omaha, NE is a wholesale, trade only sign and graphics printer who produces signs as well as other graphic output for the print industry. A consistently growing company, at FireSprint, their mission is 'your success'. Their passion is helping other businesses including sign shops, ad specialty companies, and graphic designers, thrive in the printing industry. In their continually growing business, FireSprint recently added the Durst Rho P10 250 HS Plus: high volume, high quality with 1,000 dpi print resolution large format printer, to provide the highest quality graphics.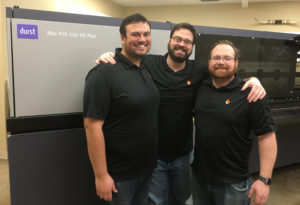 "One thing you can count on is our passion for what we do," states Gene Hamzhie, President of FireSprint. "At FireSprint, we grow people. Our focus concentrates on helping our clients grow, encouraging the growth of our own people, and building the kind of business we, and our customers can all be proud of."
FireSprint was originally founded in 2007 as TargetOmaha Marketing. By the beginning of 2009 they had over 600 customers that worked with them on a monthly and/or seasonal basis. They sold everything from print, to websites as well as cut and full color vinyl graphics in Omaha. "With this model, we were growing. Around town, you couldn't drive two blocks without seeing some of our work," said Hamzhie.
With so much print work to fulfill, the company found it difficult to find a supplier who could meet the demand and also maintain quality and therefore needed another solution. "No matter what the volume, it seemed that every supplier/printer we worked with, couldn't maintain the high level of quality, speed and accuracy our customers came to expect with the other products we manufactured in-house." Said Hamzhie. "It was at this point that we decided to become the supplier we worked so hard to find. That's when FireSprint was born."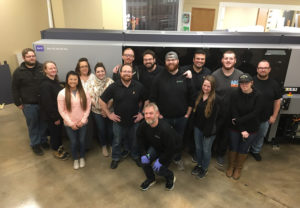 FireSprint continued its growth and found the need to fulfill an ever-increasing print workflow demand on a variety of materials while maintaining the quality it was known for. Their current solution was not able to meet this need. "We had a negative experience with our first digital flatbed. It just did not meet our expectations. So, when looking into buying our next printer, it took a lot longer because of our first experience," stated Hamzhie. After a thorough search, FireSprint added the Durst Rho P10 250 HS Plus. The Rho P10 250 HS Plus is the most versatile and productive 10 picoliter UV printer available. This true hybrid prints on both rigid and roll media and combines speed and exceptional quality without compromising either, providing the highest output reliability and efficiency.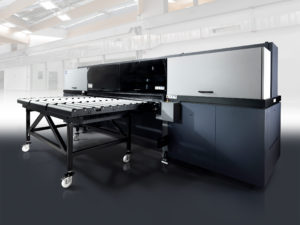 The Rho P10 series is especially suited for large format specialists who aim for a consistent quality on a variety of advertising and promotional materials, exactly the direction FireSprint was looking to offer their customers. With their previous technology, they could physically print what they needed, however the print quality did not meet their standards, especially with the increase in demand. They needed a solution that would provide their customers with a consistent quality.
In the search for a new solution, FireSprint determined they were going to purchase the best equipment for their needs so as to not run into a poor solution again. They searched all of North America to examine their options and often found themselves in showrooms to see the equipment work. Durst, however, brought FireSprint to visit current customer locations to see the equipment as it works on the production floor.
"When we started to investigate Durst, they did not have a showroom in North America which honestly, took us back a little as everyone else did," said Hamzhie. "Yet, Durst brought us into real production environments (actual customer locations) that did not have factory trained technicians running everything. It was actual production. In all of the hours we watched the Durst printers running we never saw anyone clean or purge the printheads – they just ran and kept printing."
"As a growth continues for this Omaha, NE based company, which has traditionally been known as a screen printer, FireSprint has committed themselves to the grand-format digital arena with the purchase of a brand new Durst Rho P10 250 HS Plus press," stated Don Coggswell, Regional Sales Manager, Durst Image Technology US.
Now that FireSprint has increased their capabilities with the Durst Rho P10 250 HS Plus, they are winning much more business they did not have previously. "When we stepped back to evaluate all the options we had, we just realized the Durst was a different classification of printer," said Hamzhie. "So, we did it. We invested in Durst."
FireSprint has had the Rho P10 250 HS Plus for over five months and through that time has experienced an unexpected benefit of owning a Durst – affiliation. They have found that when building relationships and others find out they have a Durst, they are seen differently; not as a small shop, rather, they can handle large volume with quality output.
"Having a Durst, other PSP's now know we have the capability and the capacity. All because we joined the 'Durst Family'", said Hamzhie. "Don't just buy a printer, invest in the Durst Family and launch your business to new heights. We are so confident with the press quality and capability in everything we produce. We are a 'Durst House' – we have reached the next level."
About FireSprint
FireSprint is a wholesale, trade only sign printer, printing signs and other graphics for the design, advertising, and printing industries. FireSprint is dedicated to be a leader in consistency, focus on helping their clients grow, and building the kind of business customers can all be proud of. Contact FireSprint at: 888-509-7446, support@firesprint.com or visit their website at: www.firesprint.com
About Durst:
Durst Phototechnik AG is a leading manufacturer of professional digital imaging systems. The company has manufacturing facilities in Brixen, Italy, and Lienz, Austria, and has major offices in the U.S., France, United Kingdom, Germany, Spain, Mexico, Brazil and Singapore. Durst's reputation for quality, precision, innovation and reliability spans more than 80 years. For more information, visit www.durstus.com.
For information on Durst Image Technology U.S., LLC or any of Durst products and services, contact Christopher Guyett, Sales & Marketing Coordinator: phone 585-486-0340 x5270, fax 585-486-0350, e-mail: cguyett@durstus.com. Or visit Durst U.S. online at: www.durstus.com