For the third-generation label company in Hackensack, New Jersey — Roll Flex — the past 40 years have brought about a great deal of change. Digital printing, in particular, was a growing element of their business, and, notes CEO Margaret Zink-Boyle, the old equipment that worked for a few odd runs here and there just wasn't going to cut it as larger orders started rolling in.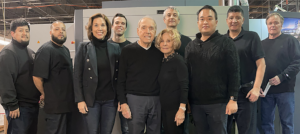 "We had a small digital printer that we used for short runs, but we did not have a digital press that could keep us competitive for larger orders. As we noticed a higher demand for digital orders, we realized that it was time for us to look into acquiring a new digital press," said Zink-Boyle, after assessing her current business, and envisioning what the future of Roll Flex would look like. "We really needed something that had that 'wow' factor and that would be incredible for us," she says. "We hadn't really purchased new equipment in a very long time, so we did an extensive search on all the digital presses in the market. It took months and months."
One of the ways she researched was talking to other label companies about their experiences with various pieces of equipment, since she wanted to make sure that when the decision was made, it was the right one. One company kept coming up. "They kept mentioning Durst," she recalls. "Everyone had such wonderful things to say about the company, so we decided to look at the Durst as well. We were pleasantly surprised by everything they had to offer us."
In the end, the Durst Tau RSC-E is the digital platform Roll Flex chose to allow them to expand and grow their business to the next level. Zink-Boyle notes that, "digital printing has made our lives a lot easier and has really helped us expand our business." The new press was installed in mid-2021, even as COVID-19 was still raging.
The Future with Durst
Quality was the largest concern when choosing a new press. Zink-Boyle notes that when they were doing their research, the Durst Tau RSC-E was one of the only digital label presses on the market that could print at 1,200 dpi, making it an obvious choice for their operation, which has a reputation for high-quality labels. "Once we started looking at the Durst Tau RSC-E, we knew that it perfectly fit our needs," she notes. She continues, "We wanted great looking labels, first and foremost. We have had the press for almost a year now, and every time we print labels, we're still like, 'these are incredibly beautiful.' The colors are perfect every time, and that's what I just can't get over."
Another point in Durst's favor has been the high-quality service. "They really are a phenomenal company to work with and their service has been very impressive," Zink-Boyle says. "One evening shortly after installing the press, we lost power. I texted our sales rep, and he texted back immediately and walked me through the solution. It really put me at ease." Later, she noted, "We had one little thing go wrong, and they sent a technician to our facility the next day. That's the kind of service you get with Durst." In fact, she says, the level of service she received just served to cement the choice she had made in going with Durst.
In addition to the press, Roll Flex also gets its ink through Durst, and Zink-Boyle notes that it has been a very easy process. "Even with the trends of global supply chain issues, ink ships very promptly."
The result is that the Durst Tau RSC-E is making a huge difference for Roll Flex. The digital pressman is the busiest person in the shop now, says Zink-Boyle, and turnaround times have gotten much faster, allowing them to take on more work. "We have a great team here. Everybody here is fabulous, and we all get along. We're all just thrilled and excited for the new technology."
She even notes that they have been able to accept urgent jobs from customers that would have been difficult — if not impossible — to fulfill without the digital press. "We sometimes get a call in the morning with an urgent request. It can be a 60,000-label order, and with the Durst Tau RSC-E, we can get it out the door that afternoon. We don't do that all the time, but we will help as much as we can if an order is urgent."
As for what's next for Roll Flex, Zink-Boyle notes that much of the equipment in the shop is older and will need to be upgraded or replaced over time. "We'll do that little by little," she says. "I would love to be able to add more business to support more Durst presses."
Roll Flex has been steadily receiving more and more jobs since the install of the Durst RSC-E. Much of Roll Flex's customer base has been with them since day one, and the new press has been beneficial to their companies as well. Zink-Boyle stated, "We've really received a lot of new business from our existing accounts. That has been really great, just sharing with them what the press has to offer." To that end, while she hasn't done much marketing of the new press or its capabilities yet, Zink-Boyle is ready to start really getting the word out to target new customers and markets. In particular, she sees opportunity in customers that need to do shorter runs of multiple art designs.
One thing is certain: Roll Flex might be small today, but it has big plans for future growth, and at the center of those plans is the Durst Tau RSC-E and all the benefits 1,200 dpi inkjet technology brings to the label printing business.
Courtesy of Packaging Impressions
For information on Durst products and services, contact Sydnie Shepland.
Phone: 585-486-0340 ext. 5236