To grow and stay competitive in the wide-format graphics space is a never-ending effort. To remain on top, graphics producers must stay up to date with printing technologies and the systems that drive them. In many cases, this is best achieved through strong partnerships with – and input from – equipment manufacturers.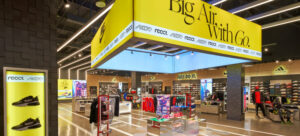 Infinity Images, in Portland, Oregon, is described by its Founder and CEO George Gross as, "a small company with national reach, producing graphics for a group of clients with a national presence." To do so, Gross says, the company has to have a lot of capabilities. Infinity Images started out as a photo lab, run by his father, which focused on engineering graphics. Over time, digitally printed graphics contributed to a predominant share of the company's revenue, and Gross made the decision in 2007 to move the company away from its original core focus and fully toward digitally printed display graphics. Durst Image Technology U.S., LLC, through innovative printing equipment and software, has been a key partner in helping the company meet its goals.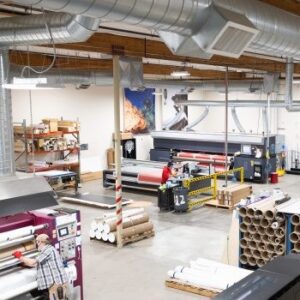 In 2007, George Gross, CEO, Infinity Images, decided to move the company away from its original core focus and fully toward digitally printed display graphics. | Credit: Infinity Images
Early on, the company produced graphics photographically, but made a significant step in 2006 when it purchased its first inkjet device. "It could do three boards an hour," he laughs. Gross describes the changes in technology since that first investment as "incredible, both in throughput and print resolution." The company's production capabilities expanded further with its first investment in a digital cutting system, also in 2006.
Today, the company produces a range of graphic elements – on rolled, rigid, and textile substrates – to produce applications including exhibits, retail displays, and interior décor. Services include textile printing, design, installation, and fulfillment. Corporate interior décor, which is a growing area for the company – includes wallpaper, murals, ceiling treatments, and sculptures. Larry D'Amico, Sales Director – North America for Durst Image Technology U. S., LLC, describes Infinity Images as being a very innovative company. "As an owner," D'Amico says, "George Gross spends a lot of time with technology. He is constantly trying to upgrade processes – on the printer side and the software side."
Gross says the company's ongoing partnership with Durst started with two Durst Lambda photographic imaging units. The company's first Durst inkjet purchase was in 2013, after Gross had seen a machine at a drupa event. He and a key member of his production team flew to Austria to investigate the capabilities of the unit, a Rho 1000. The company's pre-purchase investigation of the printer was extensive. The full day evaluation session involved a range of materials and files to create company-specific, real-world production scenarios. Once it was installed, Infinity Images used the machine for an almost even mix of rolled and rigid stocks. "It was perfect," Gross says about the fit of the machine to the needs of his company at that time. Faced with its next investment, Infinity Images stayed with Durst, purchasing a Rho 312R and, subsequently, a Rho 1312. A new Durst P5 350 will be installed soon.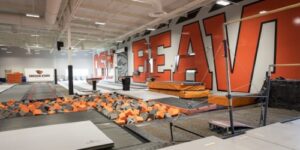 The OSU Gymnastics team celebrated its 46th season making it to the NCAA Regionals in 2021. Having not had a remodeled practice space since 1990, it was high time that this exceptional program got a new, modern training facility. The enormous cut vinyl "OSU Beavers" wall graphics measured 16-feet tall and spanned the width of the building. | Credit: Infinity Images
About his strong connection to Durst printing systems, Gross says, "their reliability for high-production is better than everyone else," and the service structure and the technicians are advantageous. He appreciates that Durst does not maintain a tiered approach to services. Training provided, he says, is both initial and ongoing. D'Amico says that because Durst is a smaller company, and privately held, its service is highly personalized. He says the service structures of larger OEMs can, due to their size, become bureaucracies.
Infinity Images has found strong reliability with Durst equipment. "The equipment hasn't been down for more than a [cumulative] week in four years of use," Gross says, noting that his company is still using the machine's original print heads. "Throughput is very high," he adds, "and maintenance is minimal. We turn it on in the morning and turn it off at night." Further, he says his company doesn't maintain a supply of spare parts for the machine, "because things don't wear out."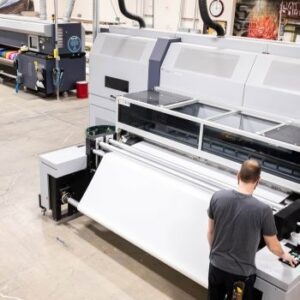 The combined use of Durst's printers and software solutions serves to optimize production. | Credit: Infinity Images
According to Gross, Infinity Images was one of the first companies to work with Durst to refine its Lift ERP software. He adds that while enterprise resource planning (ERP) software is difficult to develop and implement for the wide-format space, given the wide variety of project types and materials used, Lift ERP has allowed his company to replace its previous solutions. The company expects to add scheduling and inventory modules, which Gross believes will be great improvements.
Infinity Images also relies on Durst's workflow software, which Gross says excels at color maintenance and matching. The workflow software is used for all the company's wide-format presses – Durst or otherwise. Finally, the company is implementing Durst's Smart Shop software, which will allow it to create customer-focused portals for key clients.
According to D'Amico, the combined use of Durst's printers and software solutions serves to optimize production. He notes that this kind of optimization has become essential in today's print environment. "Especially after COVID," he says, "the market has changed, and if you don't have the tools, you may not compete." D'Amico adds that in today's competitive graphics segment, margins are thin and solutions like Durst's Lift ERP can eliminate numerous "touches" on jobs.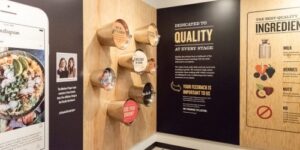 The newly remodeled Tillamook Creamery was open to the public in 2018, and Infinity Images worked alongside Formations for this project. The keys to making this project happen were a keen eye for detail through our prepress and printing processes and open communication with the client. The resulting Visitor's Center is inviting, informative, and visually stunning. | Credit: Infinity Images
Gross says the team at Durst are great partners and have involved Infinity Images in some of its product development processes. In doing so, he says, Infinity Images has helped influence product development, thus better meeting specific production needs. "We've had some meetings with the development group," he says, "and they've been very willing to work with us to craft tools to meet our needs." Looking forward, Gross says Infinity Images, "will be with Durst for printing output and software. There will be more software modules and increased robustness." Gross says while change is constant for his company, he believes Durst will continue to meet his company's needs.
D'Amico says that as an OEM partner, the Durst team goes above and beyond simply selling a printer, instead focusing on improving the business. "George's company is a great example of that," he says. "It's improving all steps of the process – every aspect."
Compliments to Wide-Format Impressions:
https://www.wideformatimpressions.com/partner/infinity-images-the-limitless-quest-to-grow/