Rochester, NY – March 2021 – Label Solutions Inc, Garland TX, a full-service label manufacturer established in 2007, are known for high quality label production and a focus on customer service. Utilizing over 200 years of combined industry experience, they offer unique label solutions to their customers with the highest quality at the fastest speeds.  Label Solutions Inc have partnered with Durst to be the first in Texas to add 1200dpi UV inkjet technology to their production portfolio. The Durst Tau RSC-E will improve production versatility, provide faster order turnarounds and give their customers the best inkjet label quality available today.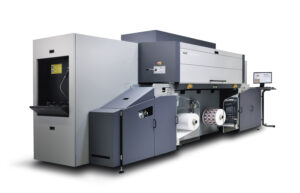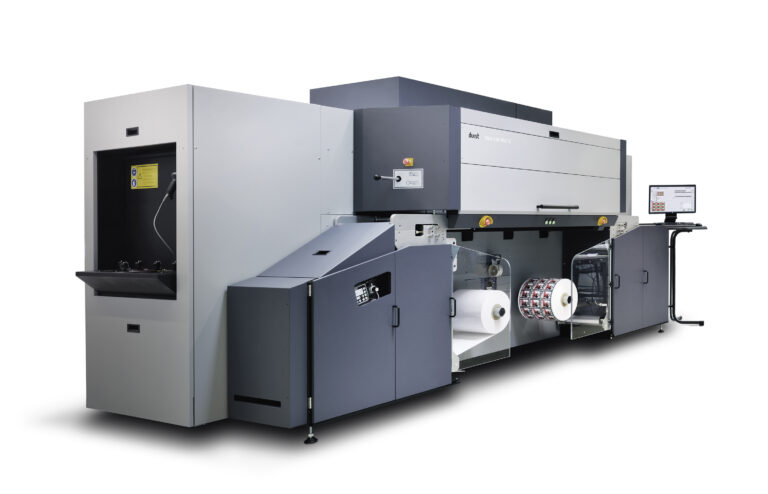 Chris Merlick, founder and CEO of Label Solutions, Inc, learned label production during a 15-year career at another label company before founding Label Solutions Inc. His focus is on high-end premium labels with an emphasis on quality and excellent customer service. Chris wanted to ensure that when Label Solutions added digital equipment, they had the best solution available.  After extensive research, Merlick decided that Durst was the best partner for Label Solutions.
Durst provided a partnership approach, worked on understanding their business model and recommended a solution from the RSC portfolio that best suited Label Solutions.  The RSC-E provides exceptional quality, color gamut, speed, with the ability to upgrade to even higher speeds as their digital business grows.  "We tested a lot of files on a lot of materials and decided that with the Durst Tau RSC-E, we are able to print on a wide range of substrates at very high quality, while improving production costs on short/medium runs," said Chris Merlick.
"With a focus on specialty custom solutions and the addition of a Durst Tau RSC-E, Label Solutions truly stands apart as a premier provider of labels and packaging solutions," said Steve Lynn, Director Label & Packaging for Durst North America. "We are proud to have an innovative leader like Label Solutions as a partner, and a member of the Durst family."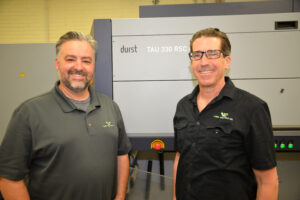 The Durst RSC-E operates at speeds of up to 170ft/min (upgradeable to 262ft/min) with 1200dpi native resolution and available with up to 8 colors. Durst RSC high opacity white ink delivers a smooth white which is ideal for printing on metallic and clear materials.  The Tau RSC platform sets the new benchmark in industrial digital UV inkjet label printing. Best-in-class quality and productivity, combined with the highest uptime, result in a competitive package with lowest total cost of ownership.
"We were farming out our digital print offerings to external suppliers before, and we knew we wanted UV inkjet when we brought our digital book of business internally," says Chris Merlick. "It was all about becoming more efficient. The RSC print quality means that we can offer more sophisticated premium work, particularly being easier to hit brand colors with the expanded color gamut of the Durst RSC."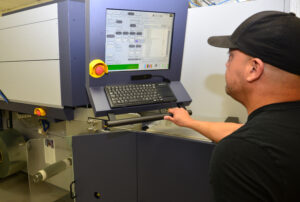 "With Durst Workflow Label software, it enables us to manipulate files press side, so jobs can be tweaked/adjusted immediately by press operators without sending the file back to pre-press. Changes are done quicker, a major time-saver. It's a game changer!" said Justin Wright – Partner and Executive Vice President, Label Solutions.
Their full-service capabilities allow Label Solutions to take the time to learn about our customer's specific needs, provide a comprehensive solution that delivers the right label for every need. Wright states, "With an expanded gamut color space, we are able to accurately match custom corporate colors within a 2 delta without needing to utilize a print station on our finishing equipment. We wanted a differentiator in our printing operation. We found it with Durst. We're very impressed with the possibilities the Durst RSC printer presents to our customers."
About Label Solutions:
Label Solutions strives for excellence in all they do to provide premium, customized labels to their customers and their brands, fulfilling their orders quickly and efficiently. Label Solutions is dedicated to offering the most advanced technologies producing the highest quality product. For more information on Label Solutions, visit: http://labelsolutionsinc.com
Phone: 214-553-9313
Email: Cmerlick@labelsolutions.com or Jwright@labelsolutions.com
About Durst:
Durst Phototechnik AG is a leading manufacturer of professional digital imaging systems.  The company operates manufacturing facilities in Brixen, Italy, and Lienz, Austria, and has major offices in North America, France, United Kingdom, Germany, Spain, Mexico, Brazil and Singapore.  Durst's reputation for quality, precision, innovation, sustainability and reliability spans more than 80 years.
For information on Durst Image Technology U.S., LLC or any of Durst's products and services, contact Christopher Guyett, Sales & Marketing Coordinator.
Phone: 585-486-0340 ext. 5270
Email: Christopher.Guyett@durst-group.com
Durst North America online at: www.durstus.com