Durst Rhotex Acquisition Improves Top and Bottom Line for Cleveland-Based Lake Graphics Label & Sign Company
Rochester, NY – October, 2017 – Rapid growth and industry demands led Lake Graphics Label and Sign Co. to recognize a need to improve turn-around time and print quality from project to project. Their rapid growth since their inception in 2009 can be attributed to taking risks, recognizing trends, and an agile strategy.  Lake Graphics is headquartered in Cleveland, OH and began as a vehicle wrap company that has grown into a full-service digital printing powerhouse, serving both wholesale and corporate customers.
Today, Lake Graphics Label and Sign Co. offers unique solutions for application issues for their customers, offering both pressure-sensitive labels and large-format printing and cutting. They are largely a wholesale printer providing products to other printers in the industry that lack the digital capacity, equipment, or technical know-how, fostering deep relationships with their customers and providing top-quality products.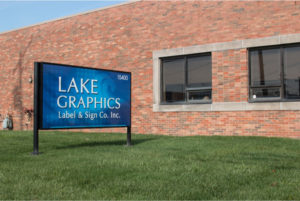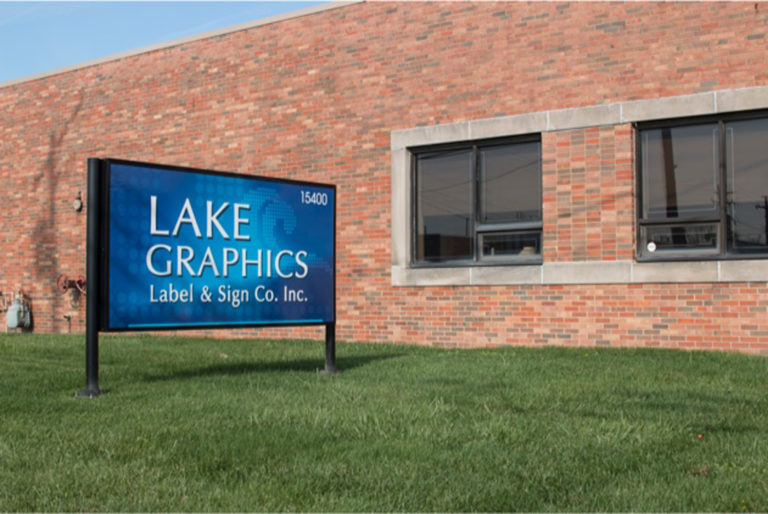 "We have gone through a few big changes in terms of our offering and our equipment," said Mark Tangry, President. "These changes were painful financially, but attracted bigger and better business opportunities. We were recently at a similar crossroads, and were introduced to Durst."
Lake Graphics has added the 2017 SGIA Product of the Year Rhotex 325, a dual-purpose printing system that combines direct-to-textile printing with dye sublimation transfer printing technology. Depending on the application and fabric, this system can alternate between paper transfer and direct printing on polyester-based materials in no time. The Rhotex 325 has advanced print-head technology, using water-based environmentally friendly dispersion inks, reaching a print speed of up to 4,195 sq. ft/hour.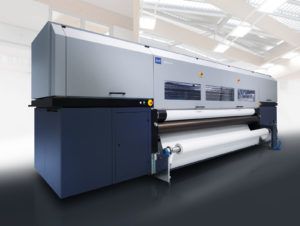 "Lake Graphics, Label & Sign Company will be a clear market leader with our latest textile technology", said Tom Green, Durst Great Lakes Region Sales Manager. "We look forward to working with and supporting them as their soft signage platform partner."
"The Rhotex 325 will give us entrée into a new market, and we can now offer it to current wholesale accounts," said Mark Tangry. "Our real goal is national accounts whether they be retail, institutional, or wholesale. It will be additive to our top and bottom line sales results.
Leadership at Lake Graphics looked into new markets to grow their business and saw fabric as a clear winner. From past printer acquisitions, the team had learned to focus on identifying a high-quality piece of equipment that provides a reliable print that is needed to enter a new market confidently.
"Our search process kept bringing us back to Durst, and my trusted industry partners opened my eyes to what our business could achieve if we only settled for the best," said Mark Tangry. "So, we began our relationship with Durst and look forward to a great partnership."
About Lake Graphics Label & Sign Company:
Headquartered in Cleveland, Ohio, Lake Graphics Label and Sign Co., Inc was founded in 2009. Lake Graphics Label and Sign Co. Inc. specialize in high-quality digital printing done fast and hassle-free. They handle small or large runs and make the entire process seamless – from design, print to delivery of labeling, large format and sign printing needs.  For more information; call 216-898-9977 or visit: www.graphicsandlabels.com
About Durst:
Durst Phototechnik AG is a leading manufacturer of professional digital imaging systems. The company has manufacturing facilities in Brixen, Italy, and Lienz, Austria, and has major offices in the U.S., France, United Kingdom, Germany, Spain, Mexico, Brazil and Singapore. Durst's reputation for quality, precision, innovation and reliability spans more than 80 years. For information on Durst Image Technology U.S., LLC or any of Durst's products and services, contact Christopher Guyett, Sales & Marketing Coordinator: phone 585-486- 0340 x5270, fax 585-486-0350, e-mail: cguyett@durstus.com. Or visit Durst U.S. online at: www.durstus.com