(October 2020) – Durst's Versatile and Comprehensive E-commerce Solution Allows Rainier Industries More Creativity and Flexibility in Their Product Offerings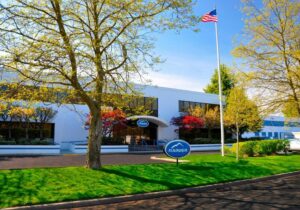 Rainier Industries, based in Seattle, WA, began as a tent manufacturer in 1896, and has since developed robust in-house capabilities in printing to support three divisions: Display, Shelter, and Shade. For over 35 years, Rainier Industries has been supplying innovative products, graphics and large format digital print solutions to the event and trade show industry. Rainier operates in a 140,000 square foot facility offering various capabilities; Project Management, design, print for indoor or outdoor, fabric, exhibit structures, installation and more.
Matt Cutchin, Display Division Director for Rainier states, "E-commerce has been a part of our workflow in Shelter and Shade for years; Until this year we had not found a software solution that met the needs of our display customers or our production processes."
"Durst knows our business very well", says Cutchin. "At Rainier we exclusively use Durst print technology for roll-to-roll printing and flatbed printing demands. Our customers expect the highest quality print available and we've found Durst equipment provides exactly that."
Rainier set their sights on implementing an online web-based e-commerce print solution to make purchasing easier for their customers. 'Web to Print' is more than just buying software and building an online shop. You need user friendliness and a flexible software that allows a customer to visualize how the end product will look.
Print providers have to provide high-quality products to their customers, E-Commerce software can help printers reach new audiences. Given their affiliation, Rainier looked to Durst for an E-Commerce software solution.  The answer was Durst SmartShop.
"Durst SmartShop offered a wide array of customization and flexibility to our customers and integrated seamlessly with our production workflows and business processes," says Cutchin. "Our relationship with Durst has been incredible for years so the decision was sort of a no-brainer."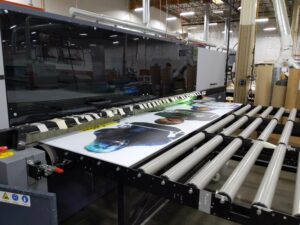 Rainier Industries President & Owner Scott Campbell explains, "with Durst, we get much more than a typical supplier/customer relationship; there is a true sense of partnership. Partners like Durst are what makes all this possible. Together we are growing and achieving results."
"We appreciate our partnership with Rainier. The truly collaborative relationship that we share with the entire Rainier organization is a rare and precious commodity", says Steve Lynn, Director & GM, New Markets.
In early 2020, at the beginning of the COVID-19 pandemic, Rainier was approached by the Seattle Mariners looking for an innovative way to connect with fans and put them in the stands. "Rainier Display and the Seattle Mariners have a longstanding relationship and have worked together on many exciting projects over the years.  The idea of printing images with fan's faces and placing them in the stands was exciting but the logistics and labor of cropping and editing thousands of images made the project cost-prohibitive" explained Cutchin.  "We had already started the process of implementing Durst SmartShop and realized this overwhelming and tedious task would be a cinch with the software." With that, Rainier was able to bring the Mariners' Seat Fleet project to life. With over 13,000 fan cutouts at the ballpark, the program was a tremendous success.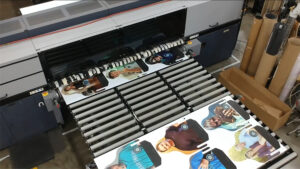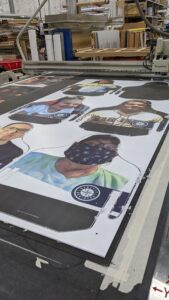 Durst SmartShop is allowing Rainier Display to evolve and grow their product offering in a way that adds more flexibility and customization for their customers.  "From the COVID-19 pandemic crisis, we are strategically navigating these unchartered waters to do our very best to listen and help create new ideas. I am proud of the Rainier team for always rising to the challenge and developing new creative solutions.  Our customers are the best, they continually inspire us to create and push us beyond the limits," states Cutchin.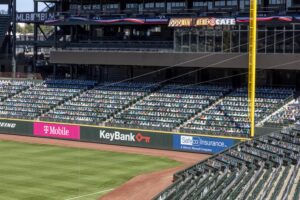 About Rainier:
Rainier was founded in 1896 and is one of the oldest businesses in Washington state. Rainier is a family owned company, providing display, shade and shelter products. Founded in the nineteenth century, they base decisions on a long-term philosophy without compromising short-term constraints. Rainier's main office and West Coast manufacturing plant is near Seattle, WA. Rainier also has an East Coast manufacturing facility in Statesville, NC, and sales representatives based in Portland, OR, Dallas, TX, and Orlando, FL. You can contact Rainier Industries at: 425-251-1800 and visit their website at: www.rainier.com
About Durst:
Durst Phototechnik AG is a leading manufacturer of professional digital imaging systems.  The company operates manufacturing facilities in Brixen, Italy, and Lienz, Austria, and has major offices in North America, France, United Kingdom, Germany, Spain, Mexico, Brazil and Singapore.  Durst's reputation for quality, precision, innovation, sustainability and reliability spans more than 80 years.
Contact: For information on Durst Image Technology U.S., LLC or any of Durst's products and services, contact Christopher Guyett, Sales & Marketing Coordinator.
Phone: 585-486-0340 ext. 5270
Email: Christopher.Guyett@durst-group.com     Visit online at: www.durstus.com