Rochester, NY – March 2023: With their recent expansion into Texas, Sheet Labels Inc. made a commitment to their customers, and to themselves, and started their new chapter with the purchase of a Durst Tau RSC E. As one of the first assets purchased for this new location, the Durst Tau RSC E sets the trajectory for Sheet Labels Inc's future.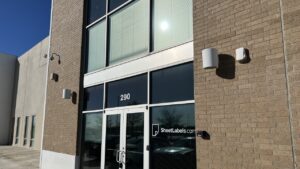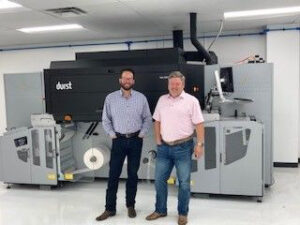 Headquartered out of Queensbury, New York, Sheet Labels Inc. is a full-service label and packaging converter that specializes in helping companies develop their image, communicate their value, and grow their brand through superior print and packaging products. To continue to meet these needs, Alan Etheridge, Senior Vice President of Sheet Labels Inc., spent a significant amount of time researching the most advantageous technology for their new facility, stating "I needed quality, flexibility and speed, but most importantly, I needed a UV inkjet asset, and a support structure for that technology, that I could rely on in order to continue to deliver superior service to our new and existing clients." Durst exceeded in every category. 
The Durst Tau RSC E provides the highest quality and productivity available in today's market, with maximum print speeds of 170 ft/min (upgradeable to 262 ft/min), impressive 1200dpi native resolution, and is available with up to eight color options plus highly opaque white. All Durst printers are equipped with our award-winning Workflow and Analytics software and comes with our industry leading, 24/7 service and support. "The 1200×1200 was an important factor in my decision, as it gave me equitable quality and flexibility between the inkjet and electrophotography assets.  The speed of the Durst was also a definite advantage, and ease of operator use/training," said Etheridge.
Steve Lynn, Director of Labels and Packaging – Sales, said of the relationship, "Our Team at Durst understands the pressures that converters face daily, which is why we develop innovative products, comprehensive support practices and business operations to deliver productive and complete solutions to the market. The Tau RSC line is incredibly versatile, and a perfect fit for what Sheet Labels Inc is envisioning for their future. We look forward to their continued success, and our growing partnership." 
"The time from press delivery to fully functional was the shortest of any digital asset I have purchased in my 26-year career in this industry. The installation, technical support, and service team from Durst has exceeded our expectations," reflected Etheridge on his experience. As for the future, he commented, "We are so impressed by the asset, and its capabilities, that we structured our initial purchase to give us options on several additional units over the next 5 years.  As we increase our company footprint, the Durst will be our UV inkjet press of choice and one of the foundational assets in current and future locations."
About Sheet Labels Inc.:
Sheet Labels Inc. is an E-Commerce based label and product decoration provider, with extensive capabilities including flexographic, digital electrophotography, and digital UV inkjet with locations in Queensbury, NY, and Austin TX.  As a business, they strive to provide an all-inclusive service platform to consumers, entrepreneurs, and businesses of all sizes. Labels are their passion, and quality and dependability are their dedication.
Sheet Labels Inc. online at: https://www.sheetlabels.com/
About Durst: 
Durst Group AG is a leading manufacturer of professional digital imaging systems.  The company operates manufacturing facilities in Brixen, Italy, and Lienz, Austria, and has major offices in North America, France, United Kingdom, Germany, Spain, Mexico, Brazil, and Singapore. Durst's reputation for quality, precision, innovation, sustainability, and reliability spans more than 80 years. 
CONTACT:  For information on Durst products and services, contact Sydnie Shepland. 
Email: Sydnie.Shepland@Durst-Group.com 
Phone: 585-486-0340 ext. 5236 
Durst U.S. online at: www.durstus.com