Smallwoods started from humble beginnings in a Longview, Texas garage, when Founder and CEO Josh Smallwood launched his small framing company, using reclaimed barnwood to finish hand-stenciled pictures of Hollywood cowboy icon John Wayne. Since the company's founding in 2012, Smallwoods has grown into a 300-person business that has claimed its position as a major player in the personalized home products market. While the direction of Smallwoods has always been forward, its path has not always been straight. Having lost everything in a devastating fire in 2017, the company found itself forced to make a new start — built around all that was left after the fire: the people, and a family-like culture built on perseverance.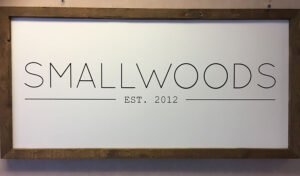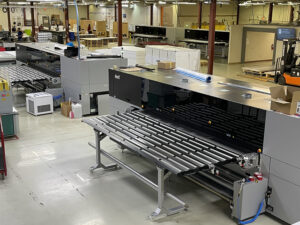 Smallwoods' rebirth included taking strong advantage of the possibilities of digital printing, the drive to make production more efficient and improve functionality, and to provide products customers want, at an affordable price. As the company has grown, it has, by necessity, grown toward the industry's most productive and robust technologies. Much of the company's recent, printing-focused growth has been maximized through Durst inkjet technology. Smallwoods, in fact, is now the largest user of Durst P5 350 inkjet presses in North America. Durst technology has increased the company's capacity by six times.
According to Justin Rector, Smallwoods' production manager, the company's move to Durst in 2020 opened a key door to growth. Capacity expanded significantly, and the company was able to print more output with fewer machines, thus maximizing production space. When Don Coggswell, Midwest/Southwest sales manager for Durst US, first met the Smallwoods team at a trade show in 2019, it was the start of conversations focused on reliability, uptime, and Durst's strong performance in the e-commerce space. "We discussed their business plan and model, and could see that Durst was a good fit," Coggswell says, "Smallwoods started with our software side, then ventured into the print platforms themselves." Smallwoods purchased two P5 350 machines in 2020, after having done face-to-face demos. Less than a year later, the company found the Durst machines were such a good fit that two additional Durst machines — HS systems — were purchased. As a technology partner, the Durst team was instrumental in pairing software, to presses, to applications, for maximum performance.
When the Smallwoods team was considering its first Durst P5 350 purchase, they were aware they had outgrown the technologies they were then using. They needed more: speed, quality, reliability. Rector says, "We were at a point where print volume was exceeding capacity, and we wanted a machine that could handle volume." Further, minimizing downtime was a crucial part of the decision, and Smallwoods has seen phenomenal uptime results with its Durst systems. Chief Operating Officer Trevor Stagner says the technology, "opened new opportunities to grow with Durst. We were not maxed-out like we were with other companies."
Among the equipment features valued by the Smallwoods team is that the Durst systems utilize a magnetic linear drive, as opposed to the belt drives used by many other equipment manufacturers. "There's no friction," says Coggswell, "so it's highly precise, where belts stretch or slip. It's a superior product, and that's what Durst really has over the competition, consistency and dependability."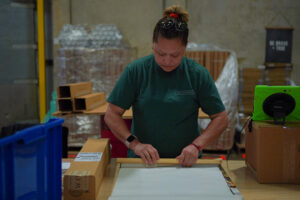 Efficiency is at the core of Smallwoods' priorities, says Stagner, noting that technology has enabled them to offer products at an affordable price. "Our competitors," he says, "are more expensive." For Smallwoods, the efficiency and capacity of its Durst systems have helped the business flourish. Between mid-2020 and the end of 2021, Stagner says, the company did 6.8 million square feet of printing, roughly 220,000 sheets printed, in 8,000 hours of print time." Rector adds that each sheet could be comprised of as many as 32 individual photos. "For 2021," he says, "we did 2.2 million custom prints."
Among Smallwoods' priorities when sourcing equipment, Rector says, "the initial focus is capacity." Following that is a strong focus on ease of use, which "makes it easy to train operators up." Exemplary print quality – most Smallwoods jobs are printed at 700×1200 dpi — helps the company meet its customers' expectations. While Durst technology is essential to fulfilling the company's priorities and expanding possibilities, computerized cutting systems are used to maximize efficiency in print finishing.
One of the key value points Durst's P5 350 and HS systems provide is strong flexibility. As a producer of products ranging in size from a postcard to a 5'x10' sheet, on a variety of substrates including foamboard, metal, canvas, and wood, the 137" print width and the versatility and adhesion of Durst's UV inks makes for strong, durable images that meet all customer expectations. The inclusion of LED-UV curing on the systems expands the possibility for Smallwoods to print onto heat-sensitive materials, such as thin plastics, without risk of shrinkage, melting, or substrate failure. Further, says Coggswell, "with hybrid functions, the P5 systems are ready to go with rolled media, so you have the ability to stage rolls of different types." To this list of equipment capabilities, Coggswell adds that Durst's workflow software has aided in Smallwoods' success: "The algorithms used for taking files and uploading them to the machine can bring 10-15% ink savings and improves ease of operation."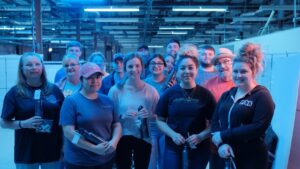 The growth trajectory for Smallwoods is strong, and the company is currently undertaking the construction of a new 250,000 square foot campus to give it the production space it needs, today, to grow. The addition of two more, similar sized, buildings is also a part of the company's view forward. As to where the company will continue to expand its product mix in the near term, Stagner doesn't show Smallwoods' cards: "We're always looking for new areas to diversify into," he says.
Setting a strong path forward is essential for all companies seeking enhanced growth, and technology is a key factor on that path. For more information on how Durst technology can help graphics producers and production-focused e-commerce companies maximize efficiency, foster strong growth potential, and straighten their paths forward, visit durstus.com.
Compliments to Wide-Format Impressions:
https://www.wideformatimpressions.com/partner/smallwoods-goes-big-with-durst-technology/