Valley Container Adds New Depth for their Packaging Solutions with Eco-Friendly, State-of-the-Art Durst Delta WT 250
Rochester, NY – April, 2019 – Valley Container, a family owned and operated corrugated sheet plant for specialty display and packaging solutions, continues its growth in the paper packaging space with the addition of the Durst Delta WT 250, a corrugated printer featuring eco-friendly Durst Water Technology. In business since 1969, Valley Container's commitment to their clients and to sustainability make up the cornerstone to their success in the packaging industry.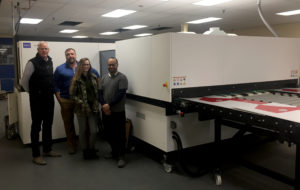 "This machine fits well in our workflow as we see it as a complimentary piece for our extensive list of converting machines," said Robert Niedermeier, General Manager, Valley Container. "The machine is very flexible in just about every way. Specifically, we're able to slip sample runs in on existing sheets simply through the Durst Workflow software."
Located in Bridgeport, CT, in their 120,000 square foot facility, Valley Container enjoys an extensive history in the packaging industry, going beyond standard corrugated applications offering: corrugated products, shipping boxes, paperboard products and the design and manufacturing of high-end graphic point of purchase displays. Valley Container's dedication to providing this extensive range of services through their fully integrated packaging business is designed to meet their clients' complete packaging and display needs.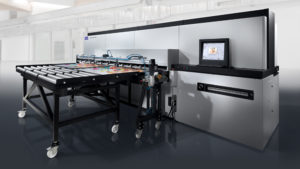 Valley Container has partnered with Durst for their printing equipment needs, with the recent purchase and installation of the digital Durst Delta WT 250. The Delta WT 250 is a leading corrugated and display packaging print solution featuring eco-friendly Durst Water Technology. It is suited for a range of applications and offers the ability to produce high quality output in standard or custom sizes from a batch size of one.
"Valley's digital choice began about 10 years ago, as we began investigating this new technology that we knew would be disruptive in our packaging industry," said Niedermeier. "The first step was to vet the technology and really learn all about what it had to offer.
Once Valley Container had an idea of the digital corrugated printer landscape, they needed to decide on single-pass or multi-pass technology and with their unique footprint in the display world, multi-pass technology best fit their needs. In addition, to maintain their industry leading commitment to sustainability, Valley Container also researched an innovative solution for UV or water technology, while still being able to maintain the quality print they are known for.
"That was a no brainer for me, as I felt that Durst Water Technology inkset gave a better print quality without any of the inherent risks," said Niedermeier. "Durst was by far the only water technology machinery company who had the best reputation in the market. The Delta WT 250 gives us the ability to provide a sustainable product with its water technology inkset, all the while, showcasing our creative capabilities to their highest levels."
Durst is a family company with an 80-year history, where the values are focused on innovation, customer orientation, sustainability and quality. High productivity, printing reliability and flexibility are the unique features of Durst inkjet technology. As a company that believes in developing long-term relationships with its customers, Durst uses customer feedback and experiences to develop innovative solutions designed to improve production and workflow.
"Durst is a first-class company in every way. From the beginning of the sales process to the delivery, installation and start up," said Niedermeier. "As with every new machine installation, there are learning curves, but Durst never left. The Durst technicians were there to remedy any issue, where now it simply just runs smooth as silk."
The Delta WT 250 is an ideal solution for those looking to increase their capabilities with seamless integration to their existing workflow. It prints with a maximum 6 colors up to 3,700 sq ft/h and the multi-Pass printing system can be adapted to suit specific customer requirements. The different peripheral components offer an easy manual solution right through to a fully automated feed solution. The Delta WT 250 represents a new generation of printer incorporating Durst Water Technology. The system prints from flexo quality up to superb litho quality with odorless ink that are completely free of hazardous labeling and comply with the strictest health and safety regulations.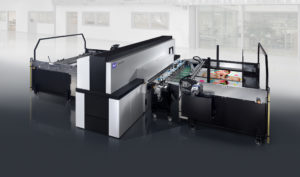 "There were two major offerings that made the Durst shine brighter. The first was the fact that it had an automated feeding solution making the machine fully efficient on the front end, the most important part of any efficiency study," said Niedermeier. "The second offering was the ability for the machine to run two sheets side by side…. having the ability to run jobs side by side, we double our output of sheets and really get our productivity ramped up each job."
"Since the launch of the Delta WT 250, the overwhelming interest in the Durst Water Technology reflects directly on our focus to support our customers, by furnishing innovative printing solutions for increased value," said Tim Saur, Managing Director, Durst North America. "We're in for the long term to develop new partnerships and help companies such as Valley Container. It's not just about the outstanding systems we provide, but an all-round customer service offering that is second to none."
The Durst Delta WT 250 has evolved into an industry leading corrugated packaging and display printing solution. Durst's commitment to the corrugated industry and customers' needs has led to continued advancement in the digital print space. Working together, customer partnerships such as with Valley Container inspire and encourage new innovations and solutions.
"We are not afraid to take a risk with new ideas and technology to push the envelope of what we have to offer," states Robert Niedermeier, General Manager, Valley Container Inc. "The Durst is a perfect example of this."
About Valley Container:
Valley Container is a custom manufacturer offering the complete package of corrugated products, shipping boxes, paperboard products and the design and manufacturing of multi-color point of purchase displays. Their commitment to the customer has been the cornerstone of their success in the packaging industry. For more information call: 203-368-6546 or visit: www.valleycontainer.com
About Durst:
Durst Phototechnik AG is a leading manufacturer of professional digital imaging systems. The company has manufacturing facilities in Brixen, Italy, and Lienz, Austria, and has major offices in the U.S., France, United Kingdom, Germany, Spain, Mexico, Brazil and Singapore. Durst's reputation for quality, precision, innovation and reliability spans more than 80 years. For more information, visit www.durstus.com.
For information on Durst Image Technology U.S., LLC or any of Durst products and services, contact Christopher Guyett, Sales & Marketing Coordinator: phone 585-486-0340 x5270, fax 585-486-0350, e-mail: cguyett@durstus.com. Or visit Durst U.S. online at: www.durstus.com