Rochester, NY – February 2022: Knowledge, extensive product offerings, and industry leading equipment has positioned West Michigan Tag & Label (WMTL) as a leader in the label market. Ready to expand their offerings, WMTL partnered with Durst to add world class innovation to their business and bring the first Durst 1200dpi RSC E to Michigan.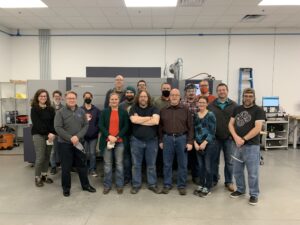 Durst RSC E technology offers best in class quality and productivity. With maximum print speeds of 170 ft/min (upgradeable to 262 ft/min) and 1200dpi native resolution, the RSC E provides the highest quality available in today's market. Up to eight color options are available, and high opacity white ink delivers a smooth white which is ideal for printing on metallic and clear materials. All Durst printers are equipped with our award-winning Workflow and Analytics software.
"We did an intensive search of the leading digital equipment available in the market and Durst was the only supplier who could match all the criteria we had set forward," said Richard V. Rice, CEO and President of WMTL. "The stunning print quality of the 1200 dpi, with inkjet nozzle compensation feature and an excellent workflow software will continue to set WMTL apart from the competition."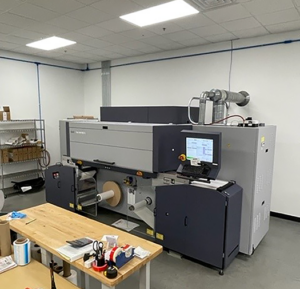 Steve Lynn, Director Label & Packaging for Durst North America, commented on the partnership, "We are delighted to partner with West Michigan Tag and Label and look forward to many years of success for their business.  Throughout the sales process we were challenged to prove all of our capabilities and learned that West Michigan Tag and Label are striving to provide the best available solutions for their customers.  We look forward to seeing how the introduction of 1200dpi quality helps them gain new business."
The Durst RSC E installation at WMTL brings the first 1200 dpi inkjet printer to Michigan. "Durst provided straight forward and knowledgeable support throughout the whole sales and installation process.  Truly a first-class operation," offered Richard Rice. The partnership will help evolve WMTL's business and ensure the highest quality products are available to their customers.
About West Michigan Tag & Label:
West Michigan Tag & Label has been committed to providing state of the art, quality driven print solutions that exceed customer expectations for 35 years. Offering Flexographic Printing, Digital Technologies, and Offset Printing, WMTL is focused on delivering top quality products to meet their customer's needs.
Website: https://www.wmtlprinting.com
Phone: (616) 235-0120
About Durst:
Durst Group AG is a leading manufacturer of professional digital imaging systems.  The company operates manufacturing facilities in Brixen, Italy, and Lienz, Austria, and has divisions in North America, France, the United Kingdom, Germany, Spain, Mexico, Brazil and Singapore.  Durst's reputation for quality, precision, innovation, sustainability and reliability spans over 80 years.
CONTACT:  For information on Durst products and services, contact Sydnie Shepland.
Email: Sydnie.Shepland@Durst-Group.com
Phone: 585-486-0340 ext. 5236
Durst U.S. online at: www.durstus.com