Labmak Announced as the First Beta Site Customer for the NEW Durst Tau 330 RSC
Durst, manufacturer of advanced digital production technologies, has announced that The Label Makers in the UK will be its first beta site customer for its new digital, high speed, eight-color label press Tau 330 RSC Label Press.
Testing begins next month [October] at The Label Makers' premises in Bradford, Yorkshire, for the new Tau 330 RSC UV inkjet label and package printing system. This new inkjet label press, as well as Durst's new Web2Print workflow, will be officially launched at Labelexpo in Brussels, Belgium, from 25-28 September, at the Durst Booth 8B26 in Hall 8.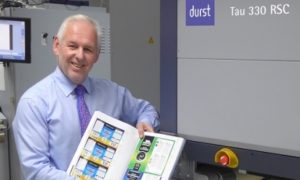 David Webster, Managing Director of The Label Makers in the UK, known as Labmak, said: "Durst has been an incredibly supportive partner with fantastic technology as we continue to develop our business into new and developing markets. As a pioneer, we're constantly wanting to keep ahead of the curve and becoming the first customer to install the Tau 330 RSC is another huge step forward for us.
"I definitely see the future of label production as inkjet, as I am sure will be borne out by Labelexpo. A major attraction of getting a third Tau 330 is its increase in printing speed to 78m a minute. Another is a big jump in quality with twice the resolution at 1200x1200dpi compared to other vendors, plus the addition of the extra colour green. This means we can cover 98% of pantone shades."
"The increases in speed and quality makes the Durst Tau 330 RSC as competitive as most flexo presses. We're confident that this new press will once again open up many more doors as we continue to expand."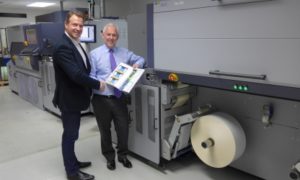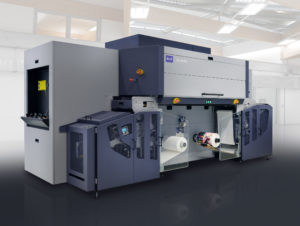 Helmuth Munter, Segment Manager, Durst Label & Package Printing, said: "We've worked in true partnership with David and his team for a long while. We are proud and excited to announce that The Label Makers will be the first company to benefit from this new and game-changing technology. The system, which boasts unmatched printing speed and printing quality, is already creating huge interest prior to its official launch at Labelexpo. It's a perfect solution for label converters that are looking for an industrial scale digital press solution."
Durst's Tau 330 press features 330 mm (13 in.) print width combined with leading edge print speed of up to 78 linear meters/min (255 ft./min) at 1200 x 1200 dpi printing resolutions. The press achieves a production capacity of 1.485 m² per hour, and thanks to its 8 color stations (CMYK+W+OVG) with new designed high pigmented inks it delivers outstanding, flexo look-like print quality with close to 98% pantone col or gamut coverage.
In line with Durst's customer claim "Configure Your Digital Future", the completely new Tau 330 RSC is available as stand-alone version or can be combined with in-line digital laser die cutting LFS 330. At Labelexpo, the Tau 330 RSC will be be configured as "hybrid press" with OMET's Xflex series of conventional finishing options, providing unlimited material flexibility for a vast range of applications.
About Durst:
Durst Phototechnik Digital Technology GmbH is a leading manufacturer of professional digital imaging systems. The company operates manufacturing facilities in Brixen, Italy, and Lienz, Austria, and has major offices in the U.S., France, United Kingdom, Germany, Spain, Mexico, Brazil and Singapore. Durst's reputation for quality, precision, innovation and reliability spans more than 75 years.
CONTACT: For information on Durst Image Technology U.S., LLC or any of Durst's products and services, contact Christopher Guyett, Sales & Marketing Coordinator: phone 585-486-0340 ext. 5270, fax 585-486-0350, e-mail: cguyett@durstus.com – Or visit Durst U.S. online at: www.durstus.com