Rochester, NY – October 2023: As the proud Title Sponsor of the most dynamic and comprehensive printing event in the world, Durst Group announces their plans to showcase a lineup worthy of this role. Durst 360° Production Excellence will be highlighted alongside Vanguard Digital Printing Systems in connected booths at the 2023 PRINTING United Expo. Taking place in Atlanta, Georgia, from October 18th through the 20th, booth B11033 and B11049 visitors will be able to view a full spectrum of integrated systems and solutions for every print provider.  
Durst will feature a variety of systems and solutions for fully automated, sustainable and profitable print production. Making its American debut is the fastest roll-to-roll printer to date; the Durst P5 350 HSR. This roll-to-roll printer can print widths up to11.5 ft. and reaches a productivity up to 7,212 sqft/h with unattended production. Alongside it will be a Durst P5 350 HS equipped with D4 technology. This hybrid solution for roll and board printing with widths up to 11.5 ft. and can reach productivity up to 7,620 sqft/h in this configuration. The showcased Durst P5 TEX iSUB dye-sublimation printer features Inline Sublimation (iSUB) for an efficient 1-step printing process. This soft signage and fabric printer features speeds of up to 4,120 sqft/h and ensures excellent color consistency and sharpness in every image. For the first time in PRINTING United Expo history, Durst will showcase their Tau 330 RSC. This label printer sets the benchmark for productivity and flexibility with a real print speed of 262 ft/min and native resolution of 1200×1200 dpi.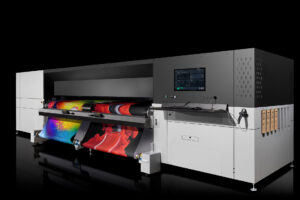 In addition to their award-winning printers, Durst will exemplify their "360° Production Excellence" by showcasing their Durst Software & Solutions. Consisting of an ERP/MIS software to streamline and automate every aspect of the print business, a Web-to-Print solution designed to support their customers in attracting leads, engaging customers and successfully selling products online, a Prepress & Production software for the simplified and automated management of prepress and production tasks, and finally, an Analytics software to ensure complete handling of production data and to increase equipment efficiency. The solutions are especially tailored for digital printing. 
Vanguard Digital Printing Systems will be debuting a brand-new look this year, starting with the introduction of a new machine to the American market. The VK3220T-HS is a next-generation UV-LED digital flatbed. This compact, user-friendly 10.5 ft. x 6.5 ft. flatbed offers up to 1800 dpi print resolution and can run up to 3,875 sqft/h. With it will be a VKR3200-HS 3.2 meter (126") true roll-to-roll UV-LED printer, capable of producing 3,000 sqft/h. The versatile VKH900-HS Hybrid UV-LED is designed to accommodate rolls up to 98" wide and flat media up to 2.5" thick and 10 lbs./sqft, and is field expandable, allowing up to 3 rows of Kyocera KJ4A printheads. Rounding out Vanguard's offerings is the VR6D-HS Flatbed UV-LED printer, which combines the latest state-of-the-art Ricoh Gen 6 printhead technology and high-speed magnetic drive unparalleled speed, resolution, and quality; this printer will also be showcased in Glantz booth C1912. As an added bonus, showgoers will be able to view the VR5D-E flatbed UV-LED printer in GSG partner booth C1435. The VR5D-E combines revolutionary technology, industry leading quality and outstanding speed at an entry-level investment.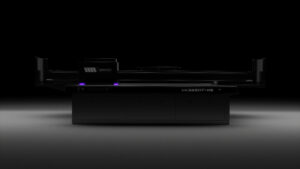 Larry D'Amico, Director of Large Format and Textile Sales – Durst North America, comments, "This may be our most exciting and diverse year yet at the PRINTING United Expo. We will be showcasing technology never before seen in America, a multitude of award-winning printers and solutions, and will be bringing a label printer for the first time to this show. There is something for everyone this year in the Durst booth, and we look forward to what is going to be a phenomenal show." Jim Peterson, COO, Vanguard Digital North America, continued, saying, "This is truly a revolutionary time for Vanguard Digital; We are elated to start bringing an entirely new set of solutions to the market, designed specifically to cater to print service provider needs. The VK3220T-HS is the benchmark for speed and quality, and with a focus on productivity and efficiency, the launch kicks off the next generation of printers we're developing."
There is a lot of anticipation for the combined booth experience this year, and with good reason. The combined display of eight printers and associated solutions are sure to captivate and inspire. Stop by connected booths B11033 and B11049 to experience the full force of the Durst Group.  
CONTACT:  For information on Durst products and services, contact Becky McConnell or Sydnie Shepland.  
Email: Becky.McConnell@durst-group.com I Sydnie.Shepland@Durst-Group.com  
Phone: 585-486-0340  
Durst U.S. online at: www.durstus.com