Breaking the Barrier to Offer Innovative Solutions – BPI Media Group Installs the Durst Rho P10 250HS Plus
Rochester, NY – February, 2019 – A complete graphics communication solution under one roof, BPI Media Group has taken their business to the next level. Founded by Rex Davis in 1979, BPI Media Group is a family owned-and-operated organization that has developed into a full-service commercial print group and a leading provider of integrated campaigns utilizing state-of-the-art technology. A key part of this innovative technology, the Durst Rho P10 250HS Plus, has been sold and installed at BPI Media Group in Boaz, AL.

(Pictured: Steve Davis, Alan Davis – Owners, BPI Media Group)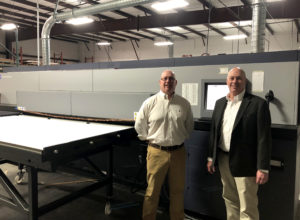 The P10 250HS Plus is an efficient and versatile UV large format printing press that combines speed and exceptional quality without compromise supporting both rigid and roll-to-roll media applications. "We made the business decision to not just step up to the next level machine of inkjet output and quality but to step to a higher level to better service our client base and obtain new business," said Alan Davis, President of BPI Media Group.
BPI Media Group offers a wide array of services, including digital printing, wide-format POP signage, offset printing, mailing services and design services. They have adapted their offerings to help clients bring their products and services to market more effectively in an ever-changing industry. In careful consideration of their clients' needs and critical color matching, BPI chose to upgrade their print technology as well as increase quality and reduce turn around time.
"We feel that the P10 250HS Plus breaks the barrier and addresses our speed and print quality requirements without question", explains Davis. "The Durst P10 250 HS gives us the capacity and flexibility to meet our customers' expectations."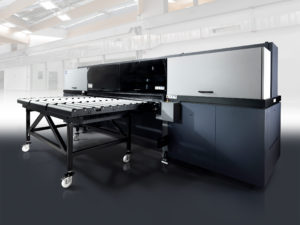 In addition to higher quality and speed, the move to a more innovative and automated print solution has helped BPI Media Group to streamline workflow and create more consistency in day-to-day operations. This has opened up the ability to further diversify the business and broaden their offerings. A key advantage of the P10 250HS Plus is the in-line white ink feature, creating opportunity to print on material for backlit applications.
"Within the first month of having the Durst, we were able to close a new account with 1100 stores nationwide including a storefront that will be completely variable data printing on the Durst for custom POP signage," said Davis. "By tying our storefront technology with the production speed of the Durst, we are able to do 36-hour turn on most items even if custom to each client."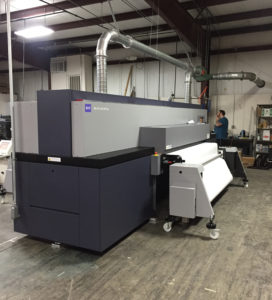 Ideally suited for a wide range of applications, the 98-inch wide P10 250HS Plus features six colors and in-line white ink, producing fine-art image quality – printing at a maximum resolution of 1000 dpi. It accomplishes production efficiency and reliability that delivers the highest level of uninterrupted production, necessary to satisfy today's demanding customers.
"The Durst P10 250HS Plus provides us with a very strong position against our competitors in production speed and quality of printing, giving us the ability to obtain new clients", states Davis. "We measure our success by the success of our customers – with the Durst P10 250HS Plus, BPI will be spreading success far and wide."
About BPI Media Group:
A full-service print provider that ties traditional offset, digital and inkjet together offering a wide array of services, including digital printing, wide-format POP signage, offset printing, mailing services and design services. For more information call: 256-593-2048 or visit: www.bpimediagroup.com
About Durst:
Durst Phototechnik AG is a leading manufacturer of professional digital imaging systems. The company has manufacturing facilities in Brixen, Italy, and Lienz, Austria, and has major offices in the U.S., France, United Kingdom, Germany, Spain, Mexico, Brazil and Singapore. Durst's reputation for quality, precision, innovation and reliability spans more than 80 years. For more information, visit www.durstus.com.
For information on Durst Image Technology U.S., LLC or any of Durst products and services, contact Christopher Guyett, Sales & Marketing Coordinator: phone 585-486-0340 x5270, fax 585-486-0350, e-mail: cguyett@durstus.com. Or visit Durst U.S. online at: www.durstus.com