Durst New Leading Edge UV Inkjet Single Pass Printing Technology.
Durst, manufacturer of advanced digital production technologies, will be presenting its latest development, the new digital – high resolution – high speed – 8 color label press Tau 330 RSC inline with OMET's Xflex X6 hybrid solution as well as its new Web2Print workflow at Labelexpo 2017 in Brussels, from 25–28 September 2017 at the Durst Booth 8B26 in Hall 8.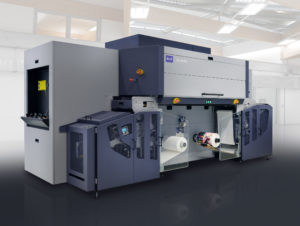 The new Tau 330 RSC is a UV inkjet label and package printing press featuring 330 mm (13 in.) print width combined with leading edge print speed of up to 78 linear meters/min (255 ft./min) at 1200 x 1200 dpi printing resolutions. The press achieves a production capacity of 1.485 m² per hour (15,985 sq ft/hr), and thanks to its 8 color stations (CMYK+W+OVG) with new designed high pigmented inks it delivers outstanding, flexo look-like print quality with close to 98% pantone color gamut coverage.
In line with Durst's customer claim "Configure Your Digital Future", the completely new Tau 330 RSC is available as stand-alone version or can be combined with in-line digital laser die cutting LFS 330. At Labelexpo, the Tau 330 RSC will be be configured as "hybrid press" with OMET's Xflex series of conventional finishing options, providing unlimited material flexibility for a vast range of applications. Its configuration options include jumbo unwinder and material pre-treatment options like inline corona, web cleaner, priming as well as post press finishing options like varnishing, cold foil, lamination, die-cutting, slitting and rewinding.
Also showcased will be the flagship Tau 330 with Low Migration ink for primary food & pharma packaging as well as the economic entry model Tau 330E with its specially developed high pigmented UV inkjet inks. The press will be demonstrated as a complete solution with the EFS 330, an equally economic converting & finishing system from SMAG.
Together with the Tau 330 series, Durst will also introduce its new Web2Print solution for online design, preview and ordering of all kinds of packaging products like labels, folding carton, and more. Also on display will be Durst's own Workflow-Label Application Suite, a modular, expandable prepress software for order entry, pre-press, RIP, color management, ink-costing and production data management. Visitors will have the unique opportunity to see full live demonstrations of the entire digital production workflow from online ordering, data processing, digital printing and finishing.
Helmuth Munter, Segment Manager, Durst Label & Package Printing, said: "We are very excited to demonstrate our broad range of digital printing and workflow solutions to Labelexpo visitors, and we are sure that expecially the new Tau 330 RSC with its unmatched printing speed and printing quality will be the highlight at our booth and create a high level of interest among label converters that are looking for an industrial scale digital press solution."
Durst. Advanced Digital Production Technology
Durst is a world-leading manufacturer of advanced digital production technologies. In the active business areas, Durst is the first choice and a preferred partner for the transformation and digitization of industrial production processes. Durst is a family company with an 80-year history, where values are focused on innovation, customer orientation, sustainability, and quality. Further information about the Durst Group can be found on the website www.durst-group.com.